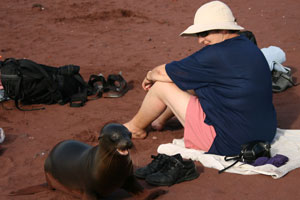 A gaggle of tourists and a rookery of mature sea lions were dozing on the red sand of Rabida Island when a sea lion pup came ashore.
The pup, with the typical curiosity of the young, checked out the human visitors. The humans, with the enthusiasm of people who were in the Galapagos to admire the beauty of nature, rushed to photograph the pup. The adult sea lions took no notice of either and slumbered on.
And that's one of the distinctive features of the amazing wildlife of the Galapagos: the animals have no fear of humans or, indeed, anything else.
In New Zealand if you walk too close to seals you'll get a bark of warning or maybe a stronger message. In the Galapagos you can walk as close as you like to the local sea lions and they simply don't react.
It's the same with the marine iguanas, land iguanas and lava lizards, the vast number of birds and the giant tortoises. The usual instinctive defensiveness towards other species just doesn't exist.
It's part of the charm of this place. You can walk right up to the animals to examine their unique features and they don't mind. When the marine iguanas return home after a day hunting at sea, and cluster together to catch the evening sun, they're so unconcerned about humans that you've got to be careful not to step on them.
Klaus Fielsch, who guided us round the islands, has a theory about this. In Galapagos, he points out, the top of the food chain is the Galapagos hawk. It's a beautiful bird but not especially scary, probably capable of grabbing a young iguana or a newly hatched albatross chick, but no threat to an adult iguana, a sealion or a tortoise.
With his delight in offering memorable examples he observes, "It's a bit like parents wondering whether to allow their children to walk around the neighbourhood. If the worst thing that can happen is the kids might hear the man down the street swearing it's pretty safe to let them out.
"In other parts of the world it's an evolutionary advantage for species to run and hide any time something unknown looms into sight. But here there's so little risk of something bad happening that it's an evolutionary advantage to save energy and stay put.
"If the worst thing that can happen is an attack by the Galapagos hawk then, statistically, they're better off taking no notice of intruders. Which is why they don't react to us."