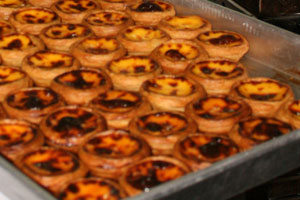 Coloane Island, only a couple of hundred metres off the coast of China, is suffering a reign of terror ... and all because of an egg tart.
We knew something was awry as soon as we arrived in this quiet corner of the former Portuguese enclave of Macau. The streets were empty, the gates and shutters of the villas closed and the fishing boats drawn up on the beach. What could everyone be hiding from?
Pirate junks looming on the horizon, perhaps. Coloane was, after all, a pirate base until relatively recently. Maybe the buccaneers were about to strike.
But, no, our guide pointed out that the memorial in front of us on the Coloane seafront was built to commemorate final victory over the pirates in 1910.
Perhaps, then, the people were staying home to avoid being entangled in a vast influx of Christian pilgrims. After all, the lovely old cream and white baroque church of St Francis Xavier was built in 1928 as a home for many of the most sacred Christian relics in Asia.
These included the remains of 26 foreign and Japanese Catholic priests who were crucified in Nagasaki in 1597, Japanese Christians killed during the Shimabara Rebellion in 1637 and, most important of all, a bone from the arm of St Francis himself, the man credited with bringing Christianity to Asia, who died in 1552 on nearby Sanchuan Island.
But, once again, it emerged that this wasn't the reason for the village's battened-down look. Pilgrims did used to flock here, especially from Japan, but some years ago the relics were transferred, the bone of St Francis to Saint Joseph's Seminary, and the remains of the martyrs to St Paul's Cathedral in the heart of Macau.
The real explanation for the empty streets lay not far away inside a small bakery in the village plaza: a unique kind of egg tart that attracts gourmets from all over Asia. This is Lord Stow's Bakery, where in 1989 an eccentric Englishman, Andrew Stow, developed what amounts to a traditional Portuguese egg tart using English custard as the filling, an innovation that proved a hit.
"Sorry for the chaos, we're a bit busy," said Eileen Stow, Andrew's sister, who runs the Coloane operation these days. "We sold 10,000 egg tarts yesterday so there's a bit of catching up to do."
Ten thousand tarts! That's a heck of a lot of hungry people for a village with a population of only a few hundred to absorb. No wonder the locals keep out of the way.
You get the impression that Andrew Stow, who died three years ago, must have hugely enjoyed all the fuss he created.
An industrial pharmacist, he turned to baking when the company he was working for moved offshore and he wanted to stay in Macau.
"Being English he couldn't bring himself to ask the Portuguese how to make an egg tart so he did a bit of experimenting," Eileen recalled.
"The result is a unique combination of English and Portuguese cooking."
That superior Pommy attitude meant the Portuguese, who had run Macau for 500 years, thought Stow was trying to lord it over them, so they nicknamed him Lord Stow.
"Andrew enjoyed the joke, so when he started this business he called it 'Lord Stow's Bakery'."
While we were chatting about egg tarts, Eileen and the bakery staff were rushing about producing them.
First the casings were made by hand. Then the custard filling was mixed with the sort of care you might expect at a pharmacy. Next the tarts were filled and placed in the oven.
Finally a delicious smell, and the development of a dark caramelised skin on the custard filling.
"Would you like to try one?" asked Eileen as she slid a tray out of the oven. "Oh, yes."
Mmm. Delicious. Just as well the pirates were defeated back in 1910 or they'd be coming here to nick this gastronomic gold.
Well, said Eileen, actually they do.
Among the hordes who flock here each day to gorge on egg tarts are a few modern-day pirates - rival caterers.
"Since Andrew came up with his creation egg tart shops have sprung up all over Asia," she laughed.
"People are always trying to steal his idea. It's the egg tart wars."
The she added, "Would you like another one before you go?" I sure would. Yummy.
Maybe, I thought, as I sank my teeth into the succulent filling, they'll one day erect a memorial here to the defeat of the egg tart pirates.
Jim Eagles visited Macau as a guest of Cathay Pacific and Macau Government Tourist Office.