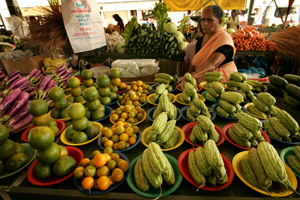 The pawpaw looks ripe. Ready to eat. So do the bananas. And this supermarket, promising "We buy big - you save big", has a special on biscuits. The perfect provisions.
Thus, my partner and I depart Nadi on our 480km drive around Fiji's main island of Viti Levu in an air-conditioned rental.
Within 25km, we slice up a pawpaw while watching the action at the Lautoka wharf. The fastest thing here is the tide. One bloke is busy repairing an outboard motor between interminable chats and helpful suggestions.
Over at the shed, men shoulder bags of ice on to utes, which ferry them to the rudimentary boats, all mango-red and parrotfish-green.
One of the many young men lounging under a boat's canopy tells me they go to sea for up to 10 days at a time or "until this is full," tapping the chest freezer he's sitting on.
We continue north, past the "rooster rearing farm" and a sign that "welcomes you to the soccer crazy town of Baa". We take their word for it.
But by Tavua, only 90km from Nadi, we're out of fruit. In the market we buy more pawpaw but decline the sugarcane juice.
Originally, sugarcane grew wild in Fiji and locals used it as thatch. But since the 1870s, its been farmed and milled and we drive through it all day. This extraordinary grass forms lawns up to 6m high.
We see groups of men bending, cutting, trimming, all dressed in long trousers, long-sleeved shirts, hats, gloves, and sweat. What they cut yesterday, they load on trucks or trains today. Fiji's 600km of narrow-gauge railway is there only to haul sugarcane and the highway is frequently dissected by railway crossings.
But, being signposted, they are not the road's greatest danger. Nor are the free-range children or the potholes or the exhausted old trucks crawling under 15 tonnes of sugar-cane, or the sections of dirt road where buses pass with such bluster and dust that they appear little more than a racing ghost.
No, the greatest danger are the cleverly concealed speed bumps. Every village has them. Some are just a ship's mooring rope dragged across the road. But it was the common mountain-of-earth variety that caught us by surprise, catapulting everything off the backseat and smashing a camera lens.
So, with one eye on the road and one eye on everything else, we don't see Ratu Udre Udre's tomb.
This 19th century chief was a cannibal whose legacy may be greater than his appetite because, depending on your source, he ate somewhere between 87 and 9000 people - that's one human every day for over 24 years.
But more disappointing was our ability to miss Naiserelagi Village and not see Jean Charlot's 1962 painting of a black Christ.
But turning south from the northernmost point of Rakiraki, it's impossible not to notice the dramatic change in country. Viti Levu's north-south mountain axis splits the island's climate in two and we suddenly leave the sun-burnt west and north with its sugarcane and enter the wet western side with its lush vegetation.
Every few kilometres, a roadside stall sells banana, pawpaw, eggplant, cucumber, beans, etc. In villages, children run beside the car shouting, "Bula! Cucumber!" thrusting their produce at you. It's retail at 20km/h.
The bulk of tourists don't pass this way and the famous Fijian friendliness, which frequently sits in the red of the greet-o-metre, is now peaking beyond the orange.
Not only are we greeted with "Bula!" by old men under the verandah, or children by the river, but by people 50m away as they wave frantically with both arms. It felt as though these hundreds of well-wishers had been planted there for our benefit. On one occasion, I waved back to a man ploughing with oxen only to realise that he wasn't waving to me, but whipping his oxen.
And if it wasn't for the New Methodists whipping up a storm in Suva in a Souls to Jesus parade, we would have got through this city a lot quicker.
The 200km from Suva to Nadi is chocker with resorts on beaches and commercial enterprise and when we stop for yet more pawpaw and a drink at the lemon-yellow Korovisilou village store, we meet Ponty. He's sauntering down the road, obligatory machete in hand. He decides to show us his village instead. Maybe he'll garden later. He explains 2m-high flood waters destroyed the village in the 1990s but a good thing came out of it - this new church.
We drive to the Nadi Airport more reluctantly than Ponty walks to his garden. And cursing New Zealand's tight food-import restrictions, there's nothing for it but to eat the last of our pineapple and pawpaw.
CHECKLIST
Getting there: Air Pacific offers daily flights between Auckland and Nadi. Visit airpacific.com.
Getting around: Carpenter Rentals can meet your flight at Nadi Airport. Visit carprentals.com.fj.
Further information: For more information on Fiji, visit bulafiji.com.
Steve Sole travelled courtesy of Air Pacific, Carpenter Rentals, and Tourism Fiji.