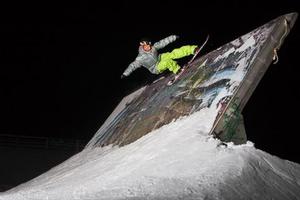 At 5pm, as the Wanaka township slips back into first gear and the sun drops behind Mt Aspiring, lights keep burning on a slope above Cardrona Valley.
Snow Park occupies a niche space in the competitive Wanaka tourism market. It offers night skiing on Tuesdays and Fridays, with trails groomed especially for the 4pm start and floodlights running until 9pm.
We pass a single car on our half-hour journey from Wanaka and the slope is uncluttered. The resort has no queues, and there is barely a walk between carpark, ticket office, chairlift and restaurant.
The temperature falls to -5C as we park the car in an almost empty lot but, as the park is nestled low on the mountain, strong winds are rare, even when we are perched high on the chairlift. There is no need for goggles as visibility is perfect.
As we ride the lift up for our first run the sky is salmon pink, and cloud sitting low in the valley is glowing. It is an incredible feeling, riding under yellow knives of floodlight as the moon is in the sky.
Across the dark hills Coronet Peak sparkles - the only other night skiing facility in the South Island.
Snow Park's point of difference is that it is aimed at freestyle riders. The night course is pretty short at about 800m, but crammed with rails, jumps, boxes and a 5m wall to slide across.
I am an intermediate snowboarder, hesitant at first, and soon tenderised by a couple of falls on a rail. "Keep your eye on the end of the rail!" urges our instructor, as I clatter on to my back. But emboldened by a glass of wine in the nearby chalet, I throw myself over the obstacles more readily.
Gliding down a steep curve at Treble Cone after a fresh fall of snow is one thing, but teetering on a long railslide or hoisting yourself 3m in the air evokes the same sort of joy.
Snow Park's stretch to be inclusive means that it straddles two markets: one of shabby snowboarder chic and another of elite alpine resort.
The ticket office and toilets are plastered in snowboarding brands and stickers, and heavy metal and punk blares from speakers beside the chairlift. Yet the newest additions to the park are plush apartments and an upmarket bar and restaurant known as the Woolshed, which overlook the bottom half of the terrain park.
Manager Sam Lee says, "We wanted to provide more than a shack on the top of a mountain." Inside the Woolshed older skiers and parents drink Central Otago Pinot Noir while watching young snowboarders attempt to jump 20 flights of stairs outside.
The venue attracts young risk-takers and the snowsports crowd - the Chinese National Snow Team is booked in here for training the week after we visit - but families and skiers are not scared away. Several seemingly indestructible youngsters throw themselves down the run, low to the ground with skis pointed inwards.
Purists who like to hear the swish of their skis on powder can travel several hundred metres across the mountain to Snow Farm, another arm of the family-owned business which offers 50km of cross-country skiing tracks.
Lee says Snow Park attracts tradespeople and hospitality staff who have to work day shifts. It is also a haven for those who need a sleep-in, or for whom daytime boarding is not enough. Even after the chairlift stops, kids hike the mountain to try jumps for one last time, and four-wheel-drives tow snowboarders in the carpark.
A night of surprises ends with one more. As we tentatively drive down the mountain, chained wheels gripping the slope, a skier overtakes us on the icy road like a ghost in the night, visible only by the sparks between his skis and the grit. Snow Park is a place for these people - braver, more mischievous, and not content to set with the sun.
CHECKLIST
Getting there: Air New Zealand has daily domestic flights to Queenstown.
Where to ski: Snow Park is situated in the Cardrona Valley, an hour's drive from Queenstown. Lift passes for night skiing cost $35 for an adult and $20 for under-18s. Night season passes cost $299. Find out more at cardrona.com. Treble Cone ski area is at treblecone.com.
Where to stay: The Woolshed, at Snow Park, has bunk beds in shared dormitories for $85 a night, or on-site four-bedroom apartments for $595 a night. Te Wanaka Lodge is at tewanaka.co.nz.
Oakridge Resort Grand Mercure is at oakridge.co.nz.
Getting around: Check out Alpine Rentals' care hire service.
Where to eat: Find out about Missy's Kitchen at missyskitchen.co.nz.
Further information: You can discover all about the Wanaka region at lakewanaka.co.nz.
Isaac Davison skied in the Wanaka region as guest of Wanaka Winter Marketing Group.