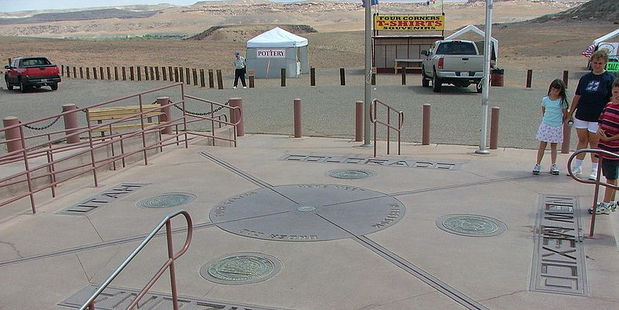 It's a unique tourist destination of the Old West, and popular detour for road-trippers leaving Route 66 to visit the Grand Canyon. But the Four Corners Monument, marking the intersection of Utah, Colorado, Arizona and New Mexico, has for 140 years been harbouring a guilty secret: it was built in the wrong place.
The marker, which claims to be the only place in the USA where visitors can plant their hands and feet in four separate states, turns out to be located 3.2km west of the spot where it should be.
In a blow to generations of amateur photographers, not to mention the enterprising Native American tribe which has built a lucrative visitor centre at the site, scientists from the National Geodetic Survey uncovered the mistake this week.
Their research suggests that the man employed to carry out the US government's original survey of the intersection, in 1868, deliberately planted his marker at the wrong spot, to avoid a stiff walk in the desert.
The exact spot where Congress had said the state line should lie is actually on top of a steep, rocky hill nearby.
But experts argue that, since the monument had been approved by the government, it is legally the state boundary - regardless of geographic protocol.
"What is legal is political, not scientific, and it doesn't matter if you make a mistake," Bill Case of the Utah Geological Survey, told radio network KSL.
"If all the states and the US Congress say the current Four Corners is the actual Four Corners, then that's that."
- INDEPENDENT