The sun never sets on Rob McFarland as he explores a stunning land of fire and ice.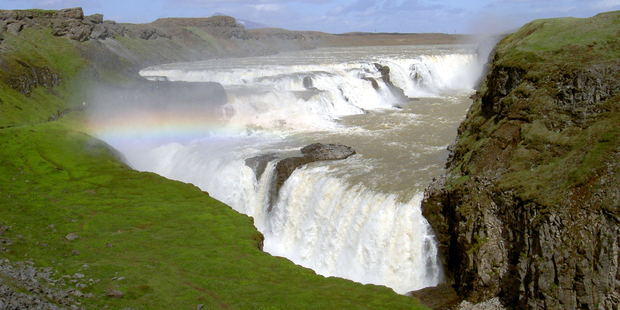 Imagine, just for a moment, a country the size of England. Position it just outside the Arctic Circle so it receives 24 hours of daylight in summer and constant darkness in winter. Liberally sprinkle it with some of the world's most dramatic geysers, waterfalls and glaciers. Make room for Europe's largest desert and the world's third-largest ice cap. Then populate it with 300,000 people descended from Vikings. And lo, you've just created Iceland.
Sadly, you won't find this unique island on many holiday itineraries because the perception is that it's too remote and too cold. The reality, however, is very different. It's only a three-hour flight from London, in summer you'll need shorts and sunnies, and less than 15 per cent of it is covered in ice caps and glaciers.
After arriving at the Ikea-inspired Keflavik airport, the 50km transfer to the capital Reykjavik provides an insight into the country's volcanic origins. With the bracing Atlantic Ocean on the left-hand side, the road cuts through a barren, rocky landscape dotted with natural fissures and hot pools.
Bizarrely, this unforgiving terrain is peppered with golf courses. Despite the obvious challenges of playing on a course where straying from the fairway means hitting your next shot off a boulder, it's surprisingly popular. In summer, people regularly tee off at midnight and play through the night.
While the tower-block-filled outskirts of Reykjavik are uninspiring, the view improves as you approach the city centre. Just past the main bus station the road narrows into an attractive thoroughfare lined with cafes, restaurants and boutiques. There are neat rows of brightly painted terraced houses and wide footpaths. Everything is clean, fresh and modern and there's that unmistakable air of Scandinavian prosperity.
Despite being home to 40 per cent of Iceland's population, Reykjavik feels more like a small town. Its compact size makes it easy to explore on foot and an almost non-existent crime rate means you don't have to worry about wandering into a dodgy suburb.
In fact, the main difficulty you're likely to encounter is asking for directions. It's a brave man who asks the way to Kirkjubaejarklaustur. Particularly, if he needs to go via Solheimahjaleiga and Pykkvabaejarklaustur.
Fortunately, almost everyone speaks impeccable English so making yourself understood isn't a problem. And in the main, I found the locals were amused rather than offended by my blundering assaults on their native tongue.
Like their Scandinavian counterparts, Icelanders can seem a little reserved and even aloof when you first meet them. It's not that they're unfriendly; they just take a very direct approach to conversation.
This natural reticence disappears every weekend, though, when most of Reykjavik embarks on a riotous Friday-and Saturday-night pub crawl through the city, known as the "runtur". Many of the cafes that line the streets around the city centre transform into bars with DJs and dance floors, and long lines of good-looking locals start forming outside around midnight.
The streets are packed with people bar-hopping until 6am, and it seems you haven't had a good night unless you've visited at least seven different venues. This alcohol-fuelled exuberance makes more sense when you learn that beer was banned in Iceland until 1989.
Be warned, though: a big night out in Reykjavik is a wallet-punishing affair. Expect to pay 700 Icelandic Krona (Ikr) for a beer (about $14) and many bars have a 1000Ikr ($20) cover charge.
Sadly, the high prices don't stop at alcohol. A main course in a reasonable restaurant can cost around 3000Ikr ($60), a four-star hotel room in high season around 20,000Ikr ($405) per night and four-wheel-drive car hire starts from a pass-me-the-smelling-salts 10,000Ikr ($202) per day.
Camping and self-catering are the obvious ways of keeping costs down, and if you visit outside the main summer season (June-August), the price of accommodation falls significantly.
In addition to a legendary nightlife, Reykjavik has its fair share of museums and galleries. The Culture House has some spectacular video footage of the volcanic eruption that created the nearby island of Surtsey, and Reykjavik 871 +/-2 is an impressive high-tech exhibition based around an excavated 10th-century Viking house.
Kids, however, will still prefer the fearsome axe-wielding waxwork Vikings in the Saga Museum about 2km outside town.
But to visit Iceland and not venture into the stunning landscape would be to do the country a grand injustice. The most popular excursion from the city is a day trip to the hat-trick of sights known as the Golden Circle.
First stop is Thingvellir National Park, a Unesco World Heritage site and the place where Iceland's first parliament was established in AD930. It's now home to the Prime Minister's summer house, which seems an odd choice given it sits on a fault line.
According to our guide, bubbling molten rock is pushing these plates apart by 3cm-6cm a year and evidence of this titanic struggle can be seen in the giant fissures and cracks that scar the landscape.
From here it's on to Geysir, the original hot-water spout after which all other geysers around the world are named. While Geysir no longer erupts with the same frequency it once did, good old reliable Strokkur next door faithfully shoots a 30m plume of water into the air every five to six minutes.
Gullfoss, a spectacular double cascading waterfall, is the final instalment in this famous trio. A walkway allows you to clamber to the foot of the first set of falls.
The Golden Circle provides just a taster of the sights along Iceland's dramatic south coast. Hire a four-wheel-drive and in a few days you can experience a mesmerising array of natural wonders: waterfalls, glaciers, monoliths, vast deserts of black sand, iceberg-laden glacial lakes, windswept tundras and congealed lava fields.
My personal favourite was Porsmork, a stunning national park surrounded by three huge glaciers. It was 2am, still light and I was driving through a glacial river without another car or person in sight. Experiences like that are what make Iceland unique.
IF YOU GO
Getting there: Air New Zealand flies twice daily to London. Phone 0800 737 000. Icelandair flies daily from London to Reykjavik. Phone +61 2 9087 0244.
Tours: Contact your local House of Travel agent for all travel arrangements for Iceland, phone 0800 838 747.
Recommended Reading: Lonely Planet's Iceland (6th edition) by Fran Parnell and Etain O'Carroll.
When to go: June to mid-August is the main summer season and when prices are highest. Consider May and September for less crowds and cheaper accommodation.
Further information: See visiticeland.com.
Rob McFarland was a guest of Air New Zealand, Bentours, Iceland Travel and the Icelandic Tourist Board.