Above the Arctic Circle, in Svalbard, Sarah McElrea has a magical encounter with some endangered inhabitants.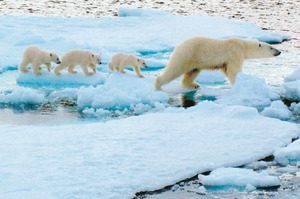 Plunging into the icy Arctic waters, a polar bear swims to an ice floe. Her cubs belly-flop into the deep blue water behind her - one, two, three - following her lead.
Hauling herself out, the mother is momentarily shrouded by a halo of water as she shakes dry, waiting for her cubs.
The family passes within metres of our ship and meanders north, making its way through the patchwork of melting ice. The smallest cub tires quickly. She hitches a ride, balancing on her mother's back as she swims between the floes.
This is a truly magical encounter - the first occasion in 15 years that polar bear triplets have been seen in Svalbard.
Svalbard is an archipelago, located above the Arctic Circle, halfway between the North Pole and Tromso in Norway. Warmed on its western coast by the Gulf Stream and cooled in the east by the Arctic Ocean, these islands are home to a wide variety of Arctic inhabitants.
Known since the time of Viking explorers, the largest island was named Spitsbergen, meaning "jagged peaks", for its western mountains, by Dutch Explorer Willem Barents in 1596. But Svalbard also contains wild, open, barren landscapes with flat-topped mountains, ice, snow and tumbling glaciers.
In winter, as you would expect, this is a place where the northern lights dance across the night skies, snow blankets the land and dog sleds glide across a frozen world.
But during the northern summer Svalbard is home to endless days provided by the midnight sun. This is the time to explore the fjords and bays by ship in search of roaming polar bears, seals, walrus, reindeer, the sneaky arctic fox, and to capture the essence of the Arctic.
Commercial flights to Svalbard land in Longyearbyen, an old mining town with a Norwegian community of 1900 inhabitants, and it is from here the voyages begin. Many visitors are pleasantly surprised to find that Longyearbyen has several excellent hotels and restaurants.
It's well worth spending an extra day or two exploring around town or doing other activities, like dog sledding, which is available year-round.
The average air temperature in summer is 5C - an improvement on the chilly -10C during winter - but things quickly get much colder when the polar winds develop.
For those who don't bring enough warm layers, the outdoors shops have a great supply of quality gear, including New Zealand's merino clothing label, Icebreaker.
Travelling on an expedition ship is a wonderful way to encounter Arctic wildlife and enjoy the spectacular scenery, where the roar of a calving glacier breaks the silence and tonnes of ice are sent crashing into the sea.
Our captain takes us deep into a field of seemingly impenetrable ice floes and the waiting game begins.
Our naturalist guides think we have a good chance of seeing seals, walrus or even polar bears so everyone is on deck scanning the landscape.
It is only a matter of minutes before we see a couple of creamy specks on the horizon through our binoculars. Before long standing only metres away from the ship are two curious polar bears.
The polar bear (ursus maritimus), also known as the Great White Bear, Ice Bear, and Nanook, has been protected in Norway since 1973, and there are now several thousand bears in the Svalbard region.
Polar bears can also be seen in the Arctic regions of Russia, Canada, Greenland and Alaska, but there they are still legally hunted, and are more wary of humans. Scientists predict that the 20,000 to 25,000 polar bears worldwide may become extinct by the end of this century because their habitat is vanishing.
The sea ice - from which the world's largest land predator catches seals and on which they migrate large distances - is disappearing as the climate warms. But our rifle-bearing guides remind us just how powerful and dangerous these endangered polar bears are.
We spot a mother sitting on the ice, tenderly nursing her twin cubs. However, the sight of a bear gorging itself on its bloodied kill, a ringed seal, quickly destroys this "cute and cuddly" image.
The bears may rule this landscape but they don't intimidate everyone. Zodiac cruising one afternoon we discover a group of weary walrus lounging on the beach. These animals, with their large tusks and beady eyes encased in a wrinkled pink skin, have to be some of the most fascinating but ugly animals about.
From the safety of our inflatable boats we watch as a skinny polar bear lumbers along the shoreline towards them. The mothers and calves rapidly retreat into the shallows around our boats but the males, each a hefty 1.5 tonnes of blubber and muscle, stand their ground.
The weak, emaciated bear pesters the walrus, but they don't need to worry, as even a healthy bear would be lucky to kill a walrus. Not only do they have their long tusks, but they also have very thick leathery skin.
Defeated by the tusked giants the bear turns to the water's edge, sits on his haunches and settles in for a feed of seaweed.
This is one part of the world where humans don't dominate, but Svalbard's coastline is littered with historic monuments and reminders of early polar exploration.
We follow in the footsteps of the great explorers Roald Amundsen and Umberto Nobile. At Ny lesund, the world's most northerly settlement, you can still see the anchor mast from which their airship, Norge, departed for the North Pole in 1926.
Elsewhere we land on beaches that are 19th century graveyards - bleached whalebones are grisly reminders of the thousands of whales slaughtered in these waters. During an onboard presentation our marine mammal expert tells us about the slowly recovering whale populations.
Almost on cue our expedition leader announces over the PA system that beluga whales are off our bow. There is great excitement as we dash outside into the soft evening light to savour their presence.
The following day, hiking across the open tundra where reindeer graze on the moss, we find the yellow Svalbard poppy and other hardy polar plants that have exploded into life with the onset of summer.
Forests, as we know them, don't exist up here. Three species of willow and a birch are common, yet they stand only a few centimetres tall. This is life at the limit.
Birds, however, are prolific, and Svalbard is home to some of the largest concentrations of seabirds in the North Atlantic, many arriving from the south to feed on the rich summer waters.
Thousands of arctic terns, little auks, kittiwakes, guillemots and the comical puffin with its clown-like appearance nest on the coastal cliffs.
Patrolling the bird cliffs, while moulting into their grey camouflage summer coats, arctic foxes scavenge eggs, busily stashing their treasure for leaner times.
Offshore the eider ducks wait for the snow to clear before the female lays her eggs in a nest of the finest quality eider down.
With our expedition drawing to a close, the ship turns and heads back to Longyearbyen.
We leave behind us a young bear cub stalking a breathing hole in the ice, playing a deadly game of hide and seek with the seals in the shadow of towering mountains.
Hopefully the scientists' predictions are wrong, and these majestic animals will remain kings of the Arctic for years to come.
CHECKLIST
Getting there: Qantas has flights from Auckland via London to Oslo, Norway. Fly from Oslo to Longyearbyen in Svalbard with Scandinavian Airways.
Expeditions: Christchurch-based Wild Earth Travel runs Arctic expeditions which visit Svalbard. Call 0800 262 8873.
US-based G Adventures also run trips to Svalbard.
Essentials: Be sure to take binoculars, rubber boots, a camera and a real sense of adventure.
Further Information: See svalbard.net.
Sarah McElrea works for several companies that send expeditions to Svalbard.