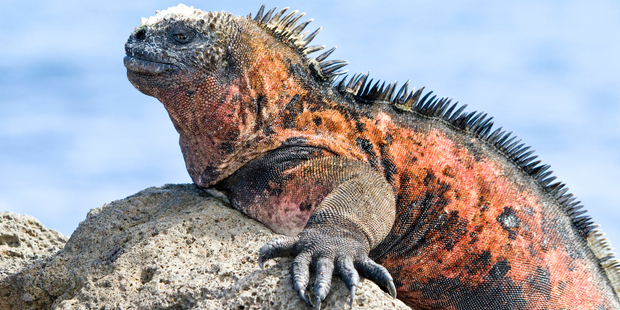 It sometimes seems that the more spectacular a location, the more violent its creation.
Take Santorini, in Greece, for example, or Iceland; these barren landscapes are the result of their earth-shattering volcanic births.
But nowhere in the natural world do you get as much bang for your buck as in the Galapagos, an archipelago 960km from the South American mainland, flung into existence by volcanoes and spread across 45,000sq km of the Pacific Ocean.
For most travellers, it takes days to get to this remote outcrop of volcanic rocks. However, the march-on-march-off mentality that rules cruise boats navigating the Archipielago de Colon (unofficially known as the Galapagos) can be frustrating.
Of course, there are sound ecological reasons why all visitors to this marine park province of Ecuador must file sheep-like around their chosen landing sites, adhering to their guide's every instruction.
Most travellers will leave understanding Darwin's natural-selection theory and able to explain the exotic breeding habits of the endemic blue-footed booby, but they might also crave to know more about island life. These harsh islands on which Darwin devised the theory of evolution may have defied human colonisation until the 20th century, but today they have a controversially booming population.
A traditional tour of the Galapagos shows little of this, usually entailing a lengthy sea expedition as the yacht makes its way from one remote landing site to another. Daytime excursions come at regulated times, after which it's back to the boat. But now, visitors can explore the Galapagos from a base on land.
As we came into dock at the Galapagos hub of Santa Cruz, one of the swirling mists that gave the archipelago its nickname "las encantadas", or "the enchanted", hung over the port. Above the central highlands, where I would be staying, a dark cloud loomed. "Looks like rain," said the deckhand, as he turfed a couple of indignant sea lions out of the dinghy so we could get in.
First stop: Red Mangrove, a hotel on the edge of Santa Cruz' main settlement, Puerto Ayora. This rustic luxury billet has welcomed such nature-loving celebrity guests as Robert De Niro, and is the place from which to explore "the other Galapagos". From this hotel, tours can be made across the island, kayaking, scuba diving, snorkelling, horse riding and, in my case, camping.
While waiting for the hotel owner, Polo Navarro, to arrive, I ambled over to the very worthwhile Charles Darwin Research Station. On my walk back through the grounds I had a giant tortoise and a lava-black land lizard the size of a large domestic cat for company, their pace steadier than mine in the 32C heat.
Seconds from the coast, the heat abates. As Polo navigates his jeep through narrow roads fringed with lowland scrub and cactus patches, the vegetation thickens. Elephant grass, fern and papaya trees begin to pop up from the rich red soil.
"People in Quito thought I'd gone mad when I first came here," says Polo, a 40-something diplomat's son who dropped out of society life and a promising career as a pro-golfer to live an idyllic, shoeless existence in these remote islands.
"When I arrived 20 years ago, the place had one or two dirt roads, and you could only communicate with the mainland by radio. You'd see little kids, sons of local fisherman, padding along the roadside selling lobsters bigger than they could carry. That's all changed now, of course. Now I come up to the highlands for a taste of the simple Galapagos life."
Half an hour later, we are roaming around Polo's farm on the edge of the national park boundaries. He bought this plot in 1983 with the plan to conserve rather than farm it, home as it was to some 50 sub-species of giant tortoise. Polo takes us on a tour of his land, keeping his eyes peeled for one of the magnificent primordial creatures.
As the sun sets, we give up the search and retreat to the camp on a lip of land overlooking the coast. Outside simple tents pitched on raised platforms, we eat freshly barbecued langoustine and yellow-tail tuna. Soon Polo and his artist girlfriend, Coque, retreat to their farmhouse for the night, leaving me swinging in a hammock.
I am woken the following morning by the sound of heavy teak leaves falling from the trees above my tent. There's nothing like a herd of grazing giant tortoise on your porch to remind you that you're camping in one of the most unique places on earth. I realise I've been sitting for over an hour watching their sluggish progress when Polo calls me to breakfast.
We eat scrambled eggs as he tells tales of his early life as a yachtsman.
"These islands attract the same kind of eccentric explorer as they did in Darwin's time," he says over a cup of lemon grass tea.
"I met a Japanese sailor who built a boat out of trash and sailed in it back to Japan. There's a plaque dedicated to him in Baltra harbour. But my favourite was a woman who sailed solo with her dog for so long that she used to ask me directions around town and would make barking noises to show she'd understood."
We spend the day trekking around the farm and spotting Darwin's finches flitting around the trees. At one point our trek descends into a 30m-long lava cave, where Polo has arranged a roughly carved banqueting table and wooden chairs, with tall candle sticks made of cana gradua (a robust bamboo).
Overseen by a snowy white owl that roosts in a little hole in the wall, this dark dining room has an occult air. The experience is far from the Galapagos of the cruise boats. Up here, the coast is a hot, savage dream.
Shrouded under the cooling highland mist, surrounded by the boulder-like tortoises and nodding green trees, we are a world away from the characteristic scorched, uninhabitable landscape, a mythical topography that seems defined only by the sea that surrounds it.
Up here, the isles that many early explorers believed were a mirage really do seem enchanted.
- THE INDEPENDENT