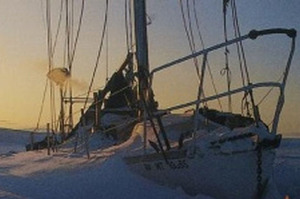 The highest mountains may have been climbed, the longest rivers traced and the two poles reached but there's still plenty of adventure to be had by the bold traveller.
For some there may be excitement enough in going to a country where English is not the language of everyday life.
For others the ultimate adventure could be travelling somewhere like Myanmar and making their own way around, staying at local inns and shopping at local markets, where tourists are still a curiosity.
For yet others it may involve backpacking through Africa, where just taking a walk along the banks of the Zambezi River involves the risk of bandits, angry elephants and hungry crocodiles.
But there will always be a few, like the explorers of old, who want to push to the limit of human endurance, take calculated risks knowing that if they're wrong the outcome could be fatal.
These are the people whose exploits provide thrilling stories, tales marvellous to follow from the comfort of the armchair, but which few will be able to emulate.
North to the Night: A Spiritual Odyssey in the Arctic
by Alvah Simon
(Broadway Books, $34.99)
Alvah Simon is one of those people constantly seeking to push the boundaries, to test himself against the harshest conditions, to see what he can learn from the experience.
After a lifetime circling the globe in search of adventure there was one last challenge he was determined to meet before settling down with his new zealand wife Diana: surviving the perpetual frozen night of an Arctic winter.
Against the advice of everyone they spoke to, the couple took advantage of the brief summer window, when the ice thawed, to sail their specially strengthened steel yacht into a lonely bay in the frozen north of Canada, high above the arctic circle, more than 100km from the nearest Innuit settlement, with no hope of rescue if anything went wrong.
They were intent on spending 10 months frozen in the ice - and 22 months if the summer thaw was insufficient for them to be able to sail out - where they would be forced to depend on their own resources.
But that already daunting challenge became even greater when, shortly before the Arctic winter caught them irretrievably in its grip, Diana had to return to New Zealand to be with her dying father.
Alvah stayed on, accompanied only by their kitten Halifax, committing himself to spending five months alone in the dark, something even the Inuit will not do.
As his wife's helicopter took off, he recalls, "the swampy spots in me wanted to protest this was not fair. But, in truth, this was so brutally fair it might have been ordained. I had prayed for hard adventure, and that hardness in its final degree could only be granted me by removing the comfort and support of Diana."
Simons' story of his ordeal is the saga of an extraordinary journey, not just to a beautiful and dangerous part of the world, but into the deepest recesses of the human mind.
In clear and honest prose he tells how he veered from the black edge of insanity to a brilliant spiritual awakening, and from the misery of trying to survive at temperatures 50 degrees below zero to glorious encounters with Arctic wildlife such as few have known.
At times it was touch and go whether he would survive the combined challenges of the battle in his mind and mistakes he made as a result, the menace of hungry polar bears, various equipment failures and, above all, the incredible cold which gradually built up a thick layer of ice inside the yacht and made every simple task incredibly difficult.
The most remarkable of his many challenges was when, blinded by carbon monoxide poisoning, he accidentally destroyed his power generator. Facing death if he couldn't produce power, he managed to take the alternator off the yacht's engine, cut it to fit the generator and rewire everything, entirely by touch.
But obviously he did survive, as did the kitten, though it too had some narrow escapes from arctic predators.
Perhaps the most moving parts of the book are Simons' reaction to the various milestones which signalled that he had, indeed, made it out the other side: the first glimmers of returning daylight, the first visit from two Innuit checking on his well-being and bringing fresh meat (which he scoffed raw), the return of his beloved Diana and the moment when their yacht finally broke free of the ice.
But his best moment came when an Innuit looked him in the eye and said, "long time alone?" "I nodded yes. He shook my hand hard. I know exactly what that meant, and not a medal on my chest could have made me more proud."
This is a truly remarkably story, one of the two or three best travel books I've read. It was published 10 years ago but never released in New Zealand. Only because the Simons now live at Whangarei Heads do we get the chance to read it.
I'm grateful to have had the chance to share his adventure. But I have no desire to experience it myself.
These days New Zealanders Gareth and Jo Morgan and friends are exploring the heartland of the United States on their trusty motorbikes.
But, of course, that isn't their first such adventure. The trip that brought them to fame was their motorcycle expedition along the ancient silk road. the story of that epic journey is now available as a book.
Silk Riders, Jo and Gareth Morgan's incredible journey on the trail of Marco Polo
by Jo and Gareth Morgan with John McCrystal
(Random House, $36.99)
Gareth Morgan is an enigma. A fervent advocate for free market economics, he demolishes the myth that such an approach is based on pure greed by deciding to give away a $47 million windfall produced by the market.
The founder of an investment company, he undermines any image of investment advisers as cautious and risk-averse by making exciting journeys by motorbike to remote places.
A highly qualified economist - a discipline also known as "the dismal science" - he shatters the stereotype of economists as serious-minded bores by displaying a keen sense of humour.
Needless to say a book bringing all those intriguing characteristics together, the story of the fantastic motorcycle journey made by Morgan, wife Jo and four friends in the footsteps of Marco Polo from Europe to China, is entertaining.
If you're hoping for an explanation for those seeming contradictions, some insight into the forces that drive such an interesting character, you'll be disappointed. Similarly, if you're looking for insights into the fascinating cultures they visit, you won't find any.
Bit is a highly readable summary of an expedition that acquired a huge audience via its weblog, regular radio reports and - especially when the group were briefly arrested in iran - television and newspaper stories.
At that level Silk Riders is good fun. The story of the group's motorcycle expedition from Polo's home port of Venice, through his birthplace in Croatia, to Bulgaria, Turkey, Iran, Turkmenistan, Uzbekistan and Kyrgyztan to Beijing is an armchair traveller's delight.
Add in the odd adventures, such as breakdowns in distant Tashkent, assorted run-ins with corrupt bureaucrats, some marvellous meetings with locals in remote corners of the world and Morgan's acerbic asides on the politics of it all, and you've got a good old-fashioned ripping yarn.
And, by the way, the authors' royalties are being donated to Unicef. How capitalist is that? What does make those Morgans tick?