Brian Fallow is entranced by the beauty and serenity of the Masai Mara wildlife reserve - and indulges in some luxury.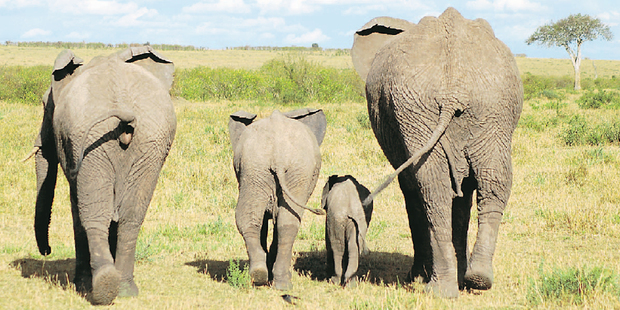 Some things are worth getting up early for. A hot air balloon ride over a Kenyan wildlife reserve at dawn is definitely one of them.
Drifting above the savannah in the soft morning light was serene and magical; the silence punctuated only by reassuring bursts of flame from our balloon's burners. Below grazed zebra, impala and Thomson's gazelle.
This is the Masai Mara plain, the northern extension of Tanzania's Serengeti, 240km from Nairobi. More to the point it is 1600m above sea level which makes for pleasant temperatures despite being close to the equator.
From the air you get a sense of the vastness of an area that has been set aside as a wildlife sanctuary.
We were nearing the end of a Captain's Choice tour of Asia and Africa. They had kept the best for last.
On the drive back to the lodge we saw a lioness with two cubs at foot. She had just killed a zebra.
While she feasted, a dozen vultures sat in a macabre circle a respectful distance away, waiting their turn. We saw evidence of their efficiency as scavengers in the bleached bones scattered about the landscape.
The variety of wildlife around was amazing. In a 48-hour visit we saw - mainly from sorties in four-wheel-drives with pop-up roofs - just about every kind of animal associated with the African savannah.
Giraffes lolloped gracefully by. One of them had five little birds called oxpeckers riding on its neck. They specialise in eating ticks, fleas and flies from the hides of large mammals.
Guinea hens scurried about in what looked like a purposeless tizzy.
We passed a soccer pitch by a tiny settlement where a troupe of young baboons clambered and tumbled over the goal posts under the watchful gaze of an adult.
The guide/drivers of the 4WDs kept in radio contact so that when one spotted a particularly prized animal the others soon converged on it.
In one case it was a leopard, disturbed when it was about to haul its kill into a tree. It beat a hasty retreat into a thicket and stared balefully at us in a "Clear off - can't you see I'm busy?" sort of way.
Another time it was a pride of lions enjoying a postprandial snooze. Full and fat and happy, they cocked an eye in our direction but didn't stir, unfazed by vehicles only a few metres away. Like the hot-air balloons, the vehicles have been accepted as non-threatening parts of the landscape.
Surrounded by a family group of elephants, our guide Sam explained that the matriarch need not be the oldest female. She might be the smartest.
The phrase "a memory like an elephant" was well founded, he said.
"They can remember things like the location of water from up to 40 years before."
A female elephant in comfortable circumstances can have five babies in her lifetime. In times of stress they cut back. It is a considerable investment of time - 22 months of gestation and another two years of nursing before the baby's tusks begin to emerge. In the wild they live to be 50 or 60.
The lodge we stayed at is built by a river which is home to a couple of alligators. They beat a hasty retreat from the bank when a hippopotamus showed up. Apparently people are more likely to be hurt by a hippo than a lion.
The trees along the riverside hosted monkeys and kingfishers. In the evening dozens of storks flew in and perched in the branches. They were just roosting, but for some reason it struck me as creepy and macabre, like relatives gathering for a funeral.
Time for another Tusker beer, I thought, and joined the other guests' languid debate about the plural of mongoose (it's mongooses not mongeese).
Few boxes went unticked on our checklist of the local fauna. This is not a zoo, however. It is an eco-system in full working order.
In New Zealand the mammals have all been introduced within the last 200 years. In the Masai Mara, the species which inhabit it have evolved there over millions of years, leaving no niche unoccupied, no potential biological livelihood unexploited.
But the Masai Mara is under threat, and, as ever, man is the menace. The reserve's tangata whenua, the Masai, have overgrazed the land surrounding it with their cattle herds, which comprise their entire wealth. This raises the risk of competition for the reserve's grass.
While the Masai benefit to some extent from tourism, it does not necessarily filter down to every herdsman trying to scrape together a bride price in cattle.
Let's hope they continue to have a sustainable modus vivendi; the degradation of this place would be a big loss.
Last stop of the tour was the Indian Ocean island of Mauritius, for a spot of rest and recreation after a fortnight of full-on sightseeing and travel.
The tour organisers took the airport hassle out of the equation by arranging for a Mauritian immigration office to process us en route on the charter flight to Nairobi.
The Hilton Mauritius Resort & Spa is an ideal spot for luxurious indolence. There was nothing louder than the sound of waves lapping the white sand of its private beach.
Mauritius has had a somewhat sinister connotation for me ever since a student flatmate from there told me tales of his grandfather. He was a diamond smuggler - the island is on the route from South Africa to Asia - and an inveterate gambler.
At one point in the 1930s he was on a losing streak, staked his second eldest son (my friend's uncle) in a game of mah-jong and lost.
The boy, aged 10, was packed off to Shanghai because a bet is a bet. He was rescued by his mother when he was 21.
But surrounded by the laid-back charms of the resort it was hard to believe anything bad ever happened here.
CHECKLIST
Luxury tours: Australian-based The Captain's Choice Tour provides luxury, all-inclusive, personalised tours throughout the world.
Brian Fallow travelled as guest of The Captain's Choice Tour.