It seldom rains in Jordan but it has oceans of treasures from many ages.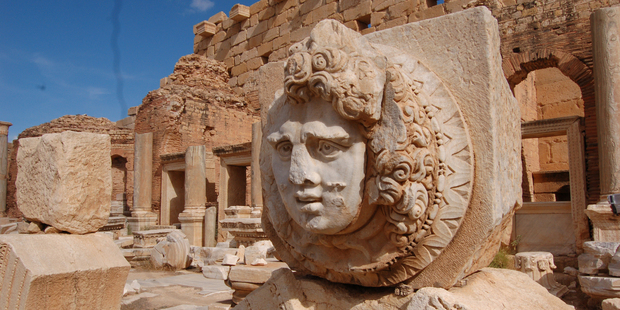 Suddenly from around a corner in Amman airport came the startling sound of a band striking up Advance Australia Fair.
The Jordanians were evidently glad to see a couple of hundred Kiwi and Aussie tourists hit town just four days after three of their best hotels were bombed.
We were on a Captain's Choice tour of "the wonders of Asia and Africa", run by Melbourne-based Croydon Travel.
Its head, Phil Asker, had an anxious few days assuring himself it was still safe to bring a jumbo-load of tourists to the Jordanian capital. But amid the heightened security that followed the bombings it was probably the safest place in the region to be.
The Jordanians' concern is understandable. Tourism represents about a tenth of their economy.
Jordan has little rain and no oil. It does, however, have a lot of past.
The archaeological museum, in the hills overlooking the capital of Amman, has treasures from many ages, including part of the Dead Sea Scrolls.
But what impressed me most were some double-headed figurines dating from around 7000 years before Christ, and 8000 years before man first set foot in New Zealand.
Thought to be fertility symbols, these artefacts may be crude but they were fashioned by people who lived much closer to the last ice age than to the present day.
Not quite so off-the-scale old is Jordan's main attraction, Petra, the "rose red city half as old as time", three or four hours from Amman on a good highway.
It is the ruins of a city hidden amid sandstone mountains and which flourished about 2000 years ago.
It was the capital of an Arabian people called the Nabataeans, who prospered by controlling the caravans of camels bearing precious loads of incense and spices on the major trade routes on the edge of the ancient Hellenic and Roman worlds.
The city proper, or what remains of it, is approached through a narrow ravine called the Siq, which twists and turns for two kilometres.
It is so narrow that you often need to get out of the way of the horse-drawn buggies and camels which are available to carry people deterred by the hike which, when you include the exploration of the city itself, can be an 8km round trip.
Carved into the steep sides of the ravine are funerary caves, culminating in the stunning structure called the Treasury.
This is Petra's iconic image which stands carved from the rock half way along the route to the city.
Despite its name, the imposing facade, 40m high, of Hellenistic columns and pediments frames the entrance to a tomb chamber, probably a royal one.
Petra owes its existence to the skill of the Nabataeans as hydraulic engineers who built underground cisterns to store the infrequent rainfall which varies from only 50mm to 250mm a year.
Improbable as it may seem, flash floods which fill the narrow floors of the ravine with a torrent of water are still a risk. Our guide recalled having to scramble to higher ground during a sudden deluge. For that reason, some of the ancient dams are being restored.
Eventually the ravine widens into a valley where the people lived.
Much remains to be excavated but what has already emerged includes an amphitheatre, a colonnaded road, several temples, and the mosaic floor of a Byzantine church.
Petra was destroyed by earthquakes in the fourth and sixth centuries but proud and defiant among the ruins are the walls of a temple protected perhaps by the elasticity provided by stout horizontal beams of juniper wood set into the masonry.
Petra is not Jordan's only archaeological site of note. Also worth a look are the Roman ruins at Jerash, less than an hour from Amman.
Its oval marketplace gives on to a colonnaded main street. The stone slabs which paved the road are set at an angle to the pavement in such a way that only one wheel of a cart or carriage would pass over a crack at any one time, making for a smoother ride.
On Amman's modern roads I noticed quite a few cars with pictures of King Abdullah or Jordanian flags taped to their rear or side windows, reflecting a surge of patriotism following the bombings.
Ironically the Greek name for what is now Amman was Philadelphia, the city of brotherly love.
Where Amman's airport was memorable for its musical welcome, what struck me on landing in Tripoli, Libya, was the number of impassive, watchful men standing around for no apparent reason other than to gauge what threat a couple of hundred New Zealand and Australian tourists might pose to the regime.
Posters of Muammar Gaddafi - celebrating 36 years in power by staring in a visionary sort of way into the heavens - were everywhere.
Tripoli has a museum intended to be devoted exclusively to mosaics and marble statues of Greek gods and Roman emperors. Well, almost exclusively. Incongruously, pride of place belongs to a beaten-up 1960s Volkswagen Beetle which belonged to Gaddafi when he was a lieutenant.
You get the impression he doesn't hear the word "No" very often.
The country's principal tourist attraction is the Roman city of Leptis Magna on the Mediterranean coast 120km east of Tripoli, served by a good road.
The housing visible from the road suggests a standard of living which might at a stretch be called decent - there are air-conditioners and satellite dishes on most of the houses - but scarcely affluent. This is despite Libya being a major oil producer.
It is seriously Islamic. Liquor is forbidden. Tripoli's luxurious Corinthia Hotel - built to cater for the influx of business travellers now that the international sanctions imposed on Libya post-Lockerbie have been lifted - serves non-alcoholic beer. It is not the same.
On the way from Leptis Magna to Tripoli we counted a grand total of three women, each in a burkha and accompanied by a man. But just when you think you have the place figured out you turn on the TV and it is showing Absolutely Fabulous. Prayer mats pointing in one direction, satellite receivers in another. Which will prevail?
Leptis Magna is one of the best-preserved Roman cities outside Italy. It was at its peak in the late second and early third century AD when its native son Lucius Septimius Severus became emperor and restored order to the Roman world from the chaos that followed the overthrow of Commodus, the emperor portrayed by Joaquin Phoenix in the movie Gladiator.
A four-sided triumphal arch in Severus' honour was erected at the central crossroads of the city, whose population is estimated to have been 90,000.
If the people needed a break from a hard day's business in one of the city's two forums they could relax in the Hadrianic baths. It had three pools - hot, tepid and cold - two saunas and a companionable public latrine.
But impressive as they may be there is something melancholy about ruined cities.
In their heyday the people of Petra and Leptis Magna thrived and were technologically advanced for their day. Then something went wrong. Some calamity - military, economic or seismic - brought these great cities to the brink of oblivion.
That is their warning to us: Sic transit gloria mundi.
CHECKLIST
Tours: Australian-based The Captain's Choice Tour provides luxury, all-inclusive, personalised tours to remote and exotic destinations throughout the world.
Brian Fallow travelled as guest of Captain's Choice.