If there's a friendlier city in Australia, Paul Lewis hasn't found it.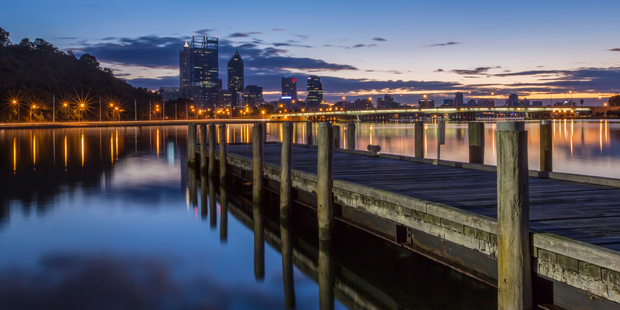 The duck wandered up between the rows of people at the outdoor cinema. It looked at me looking at it and cocked its head to one side, as an inquisitive fox terrier will do. It was seeking a handout. On the screen, Robert Downey jnr and Val Kilmer were locked in a kiss in the movie Kiss Kiss Bang Bang while the woman next to me drank chilled, fizzy red wine from a can.
A slightly surreal moment.
The nocturnal duck was one of many living in Perth's outstanding Kings Park - the scene of an outdoor cinema where the ducks have learned to take advantage of the people taking advantage of the reliable weather. I half expected David Bellamy to burst out of the bush, hot on the trail of this rare species of nocturnal duck, camera crew in tow, Bellamy gesturing at the duck, waving his arms and mispronouncing his 'r's as 'w's. It was excellent when he used to talk about "e-gnaw-mous pwotwuberances".
Speaking of enormous protuberances, there aren't any at the outdoor cinema.
Instead of cinema seats, you have bean beds - like bean bags but built for stretching out. People with chairs have to sit at the back, so they do not block the view of those reclining. They bring or buy picnic hampers. They eat. They drink - wine from a can only just qualifies - they loll about, and the whole thing is a perfect illustration of the relaxed, friendly atmosphere of Western Australia's premier city.
If there's a friendlier city in Australia, I haven't found it (although I have to declare here that I've not yet been to Adelaide). Oh, Perth has its problems too - a trip through Subiaco after watching the Western Force's Super 14 debut at the excellent Subiaco Oval, yielded the unedifying sight of teen gang fighting, although it was more like a raucous squabble, really. In terms of violence, Once were Warriors it wasn't. The local paper alarmed itself and anyone who would listen about bikie gangs and turf wars, but through all these minor blemishes, Perth's smooth complexion shines through.
The people are genuinely friendly and the whole place has grown up a lot since I first visited - admittedly quite some years ago - and even since more recent trips. Perth is putting its hand up regarding some of the big sporting events held in Australia - the Super 14's new franchise the Western Force being one drawcard, along with cricket and rugby tests and the Johnnie Walker golf tournament, co-starring our own Michael Campbell. They are targeting Kiwis, South Africans and Australians to build tourism around such events.
On my first time in Perth, it took me two days before I spoke to an Aussie. Everyone seemed to be from somewhere else - Asians, New Zealanders, Brits and South Africans. But Perth has gone through its awkward adolescence and is now comfortable in its own multicultural skin.
You see it at various levels - such as retail assistants and others in the service industry who are now comfortable with the concept of serving others and actually seem to enjoy it, as opposed to a form of puzzled resentment. They know how lucky they are, living in a city dominated by the Swan River which proclaims the beauty of the place at almost every turn, as do the City and Cottesloe beaches. Perth residents are secure in the knowledge that theirs was a good roll of the dice. "East coasters" are migrating to Perth from the Sydney and Melbourne rat races, cashing up and heading for the cheaper property of Perth (pushing up the prices, of course, to the mingled pleasure and consternation of the locals).
Even with more money and attention, Perth hasn't lost its grasp on life's basic principles. It maintains, for example, one of the strongest egalitarian streaks in the nation. Sydney is big, brash, jangling with bling jewellery and the nouveau riche. The little Aussie battlers live out west, in bogan land. Melbourne has old money, is more Brit than the Brits sometimes, a city that would never wear the wrong tie with the wrong shirt.
Australians are fond of saying that theirs is a society that rides in the front seat of the taxi. Perth is a city where that actually happens. It is much more sophisticated these days, but sophistication isn't really what it's all about.
That's never more seen than on the city's beloved "Rotto" - Rottnest, the island 30 minutes' ferry away from Fremantle. It's about the same distance as Auckland's Waiheke, but that's where resemblance ends. Waiheke these days has status symbols, whatever yuppies are called now, and self-satisfaction as thick as peanut butter. Think Waiheke 20 years ago, before the Porsches arrived and the property prices went into orbit, and you're closer to Rottnest. It's the people's island, where comparatively spartan beachfront villas dot the island (there are few residents) and are the subject of earnest ballots to see who will rent them over summer.
It's a collection of bays and beaches, some with excellent snorkelling in Perth's hot, dry climate, and whose charm overcomes even the hundreds of boats that litter them on their moorings. A cycle around the island - you can go only as far as 24km - is a must. Many people don't stray far from the fine beer garden at the Quokka Arms, named after the island's unique marsupials that seem to be part rat, part wallaby. The tendency of many visitors to stay in one spot leaves much of the island free.
The authorities running Rotto are keen to attract more international tourists to the island and are talking about building flash new accommodation for them. But Rotto's shareholders (the public) are up in arms about it, wanting Rotto to stay the way it is.
The guys who own all the yachts, boats and gin palaces moored in the bays are a pretty powerful lobby so there's a fair chance there will not be a lotto change at Rotto.
Also an essential visit are Perth's many restaurants - try the Oyster Bar at South Perth looking back over the river to the city - and there are endless pubs, bars and clubs. A Captain Cook river cruise from Perth to Fremantle is a good way to get a bit of local history, particularly on the swanky residences and their owners that line the Swan. Fremantle itself remains what it has been since the 1987 America's Cup - a wonderful mixture of history, charm and outright pandering to the tourism dollar. It has a great music and bar scene, markets and shopping.
For a good "Freo" experience, get a window seat at Joe's Fish Shack, wrestle with Aussie-size portions of excellent seafood and watch the passing parade of people and boats.
There are wine tours as well and, if there is time, Margaret River and its superb wine and surrounds beckon. But that is all three-and-a-half hours out of Perth, and we are really looking at likely activities for those who go to watch the sport.
The Johnnie Walker this year was held at the Vines, about 30km out of Perth. Golfers might consider a stay - the accommodation is good and the course is testing and a style we just don't see in New Zealand. The first two holes I played there, I putted off the green both times, so fast were they.
But the memory I have most of the Vines was teeing up at one of the par threes, only to find myself surrounded by kangaroos.
There was a big boss kangaroo and his harem and the boss took an inordinate interest in me. In fact, he seemed to regard me as the most fascinating thing he had ever seen. I successfully shooed him out of my line by waggling my 7-iron at him, but he continued to stare at me while proceeding - I swear I'm not making this up - to fondle his genitals.
This appeared to be a signal because his harem, who had previously ignored me, now took a closer interest in me. I contented myself with thinking that it was just as well he didn't want to fondle my genitals, swung, and put the ball on the green 168 yards away, 12 feet from the pin.
As I strode to the hole, I told myself what a great golfer I was, undistracted from excellence, even by a genitally-charged boss 'roo. Until I missed the putt.
What you do then is what you do every time you go to Perth. Surrender to its easy charm.
NEED TO KNOW
Getting there: Air NZ offers direct flights.
Western Force: Tickets for Subiaco Oval $16-$50.
Moonlight Cinema, Kings Park: $12 phone bookings, $11 online.
Rottnest Express-Boat Torque: $49 ex Fremantle (half-hour trip) $64 ex Perth (1 1/2 hours) Rottnest Bike Hire: $24 for first day (bike with gears); $18 for first day (single-gear bike).
Vines Resort & Golf Course: Social golf green fees $80.
Medina Grand Hotel: Opposite convention centre, handy to river and CBD from $62 to $262 per night - studio to premier apartment.
Further information: See wa.gov.au.