Helen van Berkel looks for angry mobs in Bangkok and finds only scenes of calm.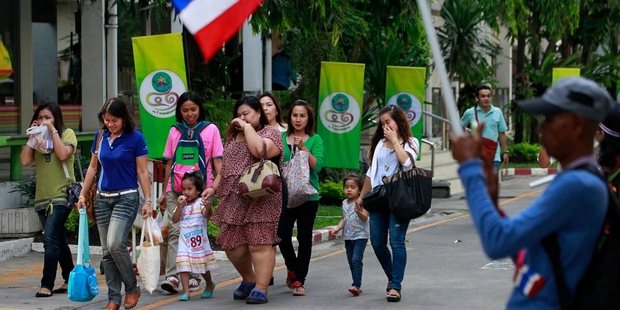 "Rule No 1," the Travel Editor said: "Don't get killed."
I'd just woken in Bangkok to news that a grenade had killed four people and injured more than 60 at one of the protest sites dotting the city.
We had driven past some of the barricades on the way to my hotel from the airport the previous night - they seemed very peaceful, very organised - festive even. Even when we plunged into a series of narrow one-way back streets, plaster walls almost scraping our wing mirrors, I was pleased the driver seemed to know how to avoid the blocked streets.
But the morning headlines and some shocked, hushed conversations over breakfast told us the situation was expected to escalate during the day. That meant our plans were in disarray.
So what were we, a bunch of Kiwi and Aussie journalists, to do? Well, look for trouble of course.
We set off from the Rembrandt Hotel and Towers at 18 Sukhumvit Rd in the Thai capital's rapidly increasing humidity and this is what we found: street vendors selling food; money changers swapping dollars and euros for baht; children bathing in fountains.
At Benchasiri Park, a block or two from the hotel, gardeners in forest green overalls and wicker hats watering the gardens. A cat snoozing in the shade, schoolgirls giggling over their books on a park bench. Nannies pushing toddlers on swings. All was calm.
Protesters were blocking major intersections throughout Bangkok, aiming to shut down the capital and force the government to accede to their demands: they want Yingluck Shinawatra - sister of deposed and exiled prime minister Thaksin Shinawatra - to stand down and a committee formed establish a new government. Tent cities have sprung up around the capital and huge television screens - think stadium-sized - televise speeches from protest leaders. It is all very civilised, if a little loud.
In fact, it seems like an opportunity for entrepreneurs to sell revolution-flavoured souvenirs - T-shirts, handbags and the whistles blown with such vigour in agreement with pertinent points made in the televised speeches - with everyone wearing the red, white and blue of the Thai flag - were in abundance.
Even when we crossed the barricades nearest our hotel, we wandered the protest sites unchecked. We were free to take photos and there was an air of patience rather than menace.
The barricades made Bangkok difficult to negotiate, but there seemed no threat to tourists.
It is probably advisable to avoid the actual protest sites in light of the grenade - and another explosion later in the week - but there is plenty to see and do elsewhere in Bangkok.
Tourism is the backbone of the economy and it is bowing under the weight of the unrest. After the tsunami, a military coup, floods and now political unrest, this lovely, lovely land needs you more than ever.
Just remember to always follow the Travel Editor's No 1 rule.
CHECKLIST
Getting there: Thai Airways flies direct from Auckland to Bangkok every Sunday, Tuesday Thursday and Friday.
The writer travelled as a guest of the Tourism Authority of Thailand.