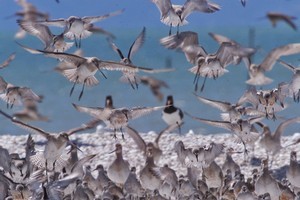 Happy Christmas. Yes, I know there are still two weeks of madness to survive before we unwrap presents and pig out on mince pies, but by the time you read this I'll be relaxing at the beach.
Like many Kiwis however, my wife and I will use some of that time planning where to go in 2011, because it's about the only occasion all year when we can chat without some clock ticking in the background.
In fact a survey of 502 Kiwis - carried out for online travel company Expedia.co.nz - found that 42 per cent said they usually decided on their travel plans around this time of year.
The Expedia survey also discovered that most of us spend several hours researching those holidays.
Personally I'm a great believer in the value of research to ensure you make the most of any trip. For me that usually involves reading relevant books, including Lonely Planet guides, then following up leads courtesy of Google.
As a result I often know about good places to visit that travel agents or even local guides aren't aware of.
Google, being the world's biggest search engine, is probably where most of us do that research, so its annual list showing New Zealanders' top travel search topics during the year gives a good picture of what we look for on the holiday front.
This year's list seems to indicate that our big interest lately has been how to organise a cheap holiday on a Pacific Island.
The top spots - the most popular holiday topics we've looked for information on during the past 12 months - turned out to be Rarotonga and Bali, with perennial travel favourite Fiji not far behind.
Next in order of importance, as we tried to find cheap flights and places to stay, were Holiday Inn and Webjet closely followed by Grabaseat.
The others in the top 10 holiday topics researched on Google were New Zealand destinations: Hanmer Springs, Orewa, Rotorua ... and Miranda.
Miranda is, of course, a peaceful little spot on the Firth of Thames notable mainly for the vast numbers of migratory shorebirds that assemble there about this time each year and its hot pools.
I'm a little surprised to find Miranda on Google's list of top travel topics, because it's not exactly tourist central... and it also happens to be pretty much where I plan to spend most of my break. So if you're among the thousands who've been researching the place maybe I'll see you there.
In the meantime, to help you find somewhere great to go next year we're putting out a special issue of Travel on December 28 with stories about favourite holiday destinations like the Gold Coast, Fiji, London, California and Thailand plus a new era in cruising in the South Pacific.
Travel will resume for the new year on January 11 with a delightful story about Kyoto.