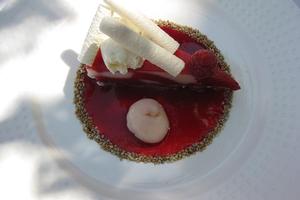 If you think travel writers always put a gloss on the places they visit, and never tell it like it really is, then tune in to www.titanicawards.com and lap up the horror stories.
The site has been launched by American travel writer Doug Lansky as a reaction to travel stories that read like brochures where everything is perfect.
"You see critical reviews of books, movies and plays in the media, but when was the last time you saw someone say a destination was awful? Or that they disliked a fancy new resort?" he asks on the site.
"The Titanic Awards seeks to take a different approach to these often spectacular underachievements in the travel industry by celebrating them."
Visitors to the site are invited to nominate the world's most filthy toilet, dreadful beach, ghastly cruise ship, horrible food, appalling hotel, scary landing, uncomfortable plane seat ...
and so on.
And just to underline the ghastly experiences awaiting the unwary traveller, most of these horror stories are illustrated by photos or video clips.
There's also a series of on-going polls on topics of interest to travellers.
Last time I looked, the verdict was that the world's rudest tourists are Americans, French and Germans, in that order.
Personally, I'd have put the French first, but I guess it depends on individual experiences.
The worst-dressed tourists are seen as Americans, Germans and British. The most easily fooled tourists are American, Japanese, British and Chinese.
The site rates the British, Americans and Germans as the cheapest tourists, with Australians 6th, though on the basis that cheap probably equals non-tipping, I'd figure Kiwis should be up there too.
Interestingly, the booziest tourists are British, Australians and Germans, and the countries producing the worst beer in the world are seen as USA, China, Britain and Australia, which makes me wonder if there's any relationship between the two.
If you're not into beer then the places to avoid, where you'll find the worst-tasting drinking water, are India, Mexico and the US.
The countries with the most over-rated cuisine are France, Italy and USA. But the nations with the worst cuisine are Britain, USA, China.
And, at the other end of the digestive process, the Titanic's passengers reckon you'll find the world's worst toilets in China, India and France.
It's all highly entertaining - certainly much more entertaining than reading about the latest idyllic spa resort - and well worth a look.
But don't take it too seriously or you might never travel overseas again.
- Jim Eagles