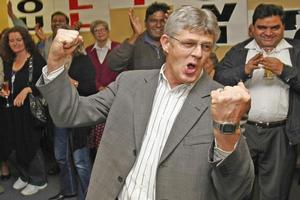 Prime Minister John Key believes his response to the overwhelming "no" vote in the smacking law referendum will give people "comfort".
But it is seen as cold comfort by former MP Larry Baldock, organiser of the citizens-initiated referendum petition, who said the response was unlikely to satisfy people's concerns.
Part of Mr Key's response to the 88 per cent who voted "no" is directed at the parents who fear they would be subject to an investigation by Child, Youth and Family Services for smacking their child.
He said he expected that a review of procedures by Police Commissioner Howard Broad and the head of Child, Youth and Family's overarching ministry, Peter Hughes, would come up with a set of written guidelines about referrals between the agencies.
And he expected other policy recommendations "that will absolutely ensure that if New Zealand parents lightly smack a child for the purposes of correction that they won't find themselves under a full investigation from Child, Youth and Family".
The PM said Social Development Minister Paula Bennett had told him the procedures were not as formalised as they might be and there could be greater clarity.
"The purpose around clarity in this area is to give New Zealand parents comfort and I think the stats as they are currently presented argue very strongly that the law has been working," Mr Key said.
There had been 33 complaints to the police, he said, and no prosecutions of what he would term light smacking - a claim disputed by Mr Baldock - against the backdrop of nearly 83,000 complaints in the family and domestic violence area.
Mr Key also said that if it was shown that New Zealand parents were criminalised or their children were taken off them for what could only be described as minor or inconsequential smacking, "then the law has to be changed".
Mr Baldock said Mr Key did not address the real issue, which was people's concerns that the law criminalised parents for smacking for correction.
"It's not about prosecution and the Prime Minister is using the wrong language. When he says no parents have been criminalised what he means is that very few parents have been prosecuted."
Mr Key's measures would continue to put off prosecutions of people, as had been the case for the past two years, Mr Baldock said. But he questioned why the law was needed when it had not led to greater prosecution of child abusers.
Green MP Sue Bradford, who sponsored the original child discipline bill, last night congratulated Mr Key on his response.
"Steps to increase people's comfort with and understanding of the law - while keeping the law intact - are an appropriate response to the referendum result," she said.
Act MP John Boscawen said Mr Key had made "a huge mistake" in his handling of the issue.
* The Prime Minister's response:
Ask the heads of Child, Youth and Family and the police to review how the law is working, including referrals between their agencies, and report by December 1.
Employ independent reviewer to help with the CYF/police review.
Fast-track review that was due at the end of the year on data and trends to early October at latest.
Ask police to continue to publish for three more years statistics on the law (that was due to stop after just two years) and to provide more detailed data.