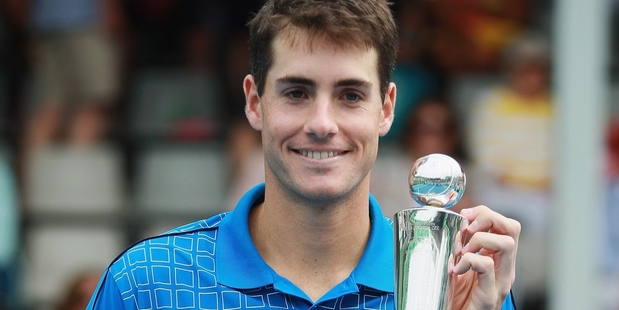 John Isner walked in to Burger King. "Give me two big Whoppers," he said.
"All right," said the lad at the counter, "You're really well liked in Auckland now and your brand of tennis is really exciting."
Americans have different ways of saying things. They say elevator, we say lift; they say sidewalk, we say footpath; they say jelly, we say jam. They say "tired", we say the defending champion of the Heineken Open should bleeding well turn up.
In truth, it's hard to blame Americanisms for Isner's rather astonishing (and late) reason for not defending his title in Auckland this week. Tired? I mean, we're all tired, aren't we? Imagine Steve Hansen's face if Richie McCaw said he wouldn't be playing this week as he's feeling a bit weary.
Poor lamb. If you can call anyone 2.08m tall a lamb; more a giraffe, really. The life of a professional tennis player must be tough ... and tiring.
Isner has been playing in the Hopman Cup in Perth which sees mixed-gender teams play on a country basis every year. It honours Harry Hopman, who helped Australia win a shedful of Davis Cups. The tournament does not count for world ranking points but is worth about US$240,000 to the winners (Isner is playing with Serena Williams, representing the United States).
To be fair to Isner, he was a late Hopman Cup call-up for the injured Jack Sock. Playing in last night's final meant it would have been a long and tiring - there's that word again - scoot to Auckland from Perth to get to the Heineken Open.
But here's the thing - defending champions are usually loyal to the tournaments they win and, while Isner's "tired" reason at least has the ring of truth, you find yourself wishing he'd invented a hamstring injury or some such to salve our feelings. The alternative rather smacks of dismissal - get lost, you Kiwis, who cares ... ?
To make matters worse, Isner played in the Hopman Cup last year, raced over to Auckland, won the tournament and then went out, with a foot injury, in the first round of the tournament most players use the Hopman Cup/Heineken Open/other tournaments to prepare for - the Australian Open. Maybe he figured it was all a bit too much this year. So why not pull out when he first went into the Hopman Cup?
Getting into the final probably convinced him he was trying to do too much - which again shapes as hard cheese for those who bought tickets on the strength of seeing last year's champion and his fetching brand of tennis.
Only there's not much danger of that. Isner is a serve-meister.
That 2.08m is wound up to the height of the Chrysler Building and the comet dispatched from his racquet at about 250km/h beams towards the poor sod who thought he was playing tennis, not dodging Stinger missiles.
After the serve, well, there's not much really. Isner has a big forehand so his stock-in-trade is a big serve followed by a big forehand if the unfortunate wretch receiving manages to shovel the ball back over the net.
His game is built totally around the serve. In that amazing Wimbledon match with Frenchman Nicolas Mahut in 2010, he served 113 aces. That's more than many serve in a season. That match, the longest in the history of professional tennis, lasted more than 11 hours and was amazing not for the quality of tennis but for the fact that no one could break serve; a sort of tennis Groundhog Day.
Mahut is another serve-slog player and the two flailed away at each other, like two cavemen with clubs each unable to find the creativity to break the deadlock.
Maria Sharapova once described herself like "a cow on ice" on clay. Isner is a bit the same, only on all surfaces. His vast height makes him ungainly if an opponent forces him to move once they manage to return the cannonball serve, though it must be said he has endurance aplenty.
His game is therefore unspectacular, boring. For the world No 18, that's a harsh critique, maybe, but he has all the creativity of a man in a tank shooting at a pigeon. It seems unlikely he will progress much higher than 18 - he does not have the finesse to trouble the very top level unless all those howitzer serves go in.
Tennis is a game of flight, spin, angles, timing, court coverage and placement - or it should be. He has never finished higher in a slam tournament than a quarter-final and that was in 2011.
We won't miss his wham-bam, wake-up-ma'am style of tennis. And it's unlikely he'll be back now after sending us his version of a 'Dear John' letter.