At first when iPhone came out, it could do a few things quite well. The revolution was in the apps and touch screen interface. But once Apple let the iOS Software Development Kit (SDK) out into the wild in 2008, the app revolution began as developers seized on the possibilities of the device coupled to the app developer tools. Even Apple was surprised - or perhaps I should say delighted - at what ensued. It wasn't just the obvious stuff, like an alternative calculator, notepad or calendar. There were really clever things like ways to leverage search data into augmented reality apps like Localscope, or one that could harness the strength of your breath over the iPhone's microphone to create a virtual 'wind instrument' (Smule's Ocarina).
The app ferment continues, of course, but lately the interesting stuff tends to be shifting into hardware. Increasingly, hardware sensors are being shipped that do everything from tell you your house plant needs watering to what the weather (and temperature) is outside your office, reporting the info back to your iDevice as long as you're connected to the 'net.
The medical sensor field is already quite rich, but looks set to explode (in a non-medically disadvantageous way).
Lately I got to look at a couple of devices that are interesting partly in that they are so different to each other - Livescribe and Sphero. One is a pen with a new/old twist, and the other is a robot toy. Both are tangible things, and both require apps to make 'em do what they do, as you'd expect.
The Sphero transgresses what I think a robot should be in that it doesn't do anything apart from roll around. It doesn't talk, lift things, open doors ... To be fair, it's billed as a 'connected toy', but also as a 'robotic gaming system'. That said, it's fairly robust and waterproof to the point you can have it roll through puddles and even have it fully immersed in shallow pools. If you buy one and wanted to use it outside a lot, I'd recommend the accessory all-terrain rubbery cover thing called a Nubby cover (US$15) which gives it more shock resistance and, more importantly, much more traction. I mean, without it the Sphero works well on carpet - not so good on hard floors, and it seems surprisingly robust even though you'd think not, from the hard shell, and considering there are circuit boards inside and lights etc.
I feel a bit conflicted about the Sphero, even though the marketing video really makes it look pretty cool.
I had some difficulty in getting it connected to my iPad (there are also Android apps, btw - check the Compatible Devices page). Also, how much fun can you actually have with, basically, a rolling ball? Even if it can glow different colours and make sounds? I mean, as a soccer fan, sure - if you can kick it, it's fun - but this particular smart-ball costs too much to do that to. Besides, you'd hurt your foot. The various apps certainly explore the possibilities. Just search on 'sphero' in the App Store and you'll see a range that's expanding. There are over 20 for iPhone (quite a few more than when I looked a month ago) and for iPad. Many are free - but some don't work.
But at the end of the day, the most fun we got was freaking out the cat by putting a hat over it while it was on the floor, then making it trundle past the poor put-upon feline once she went to investigate. Man she can jump! (I do love my cat, please note. She was not hurt, only startled.)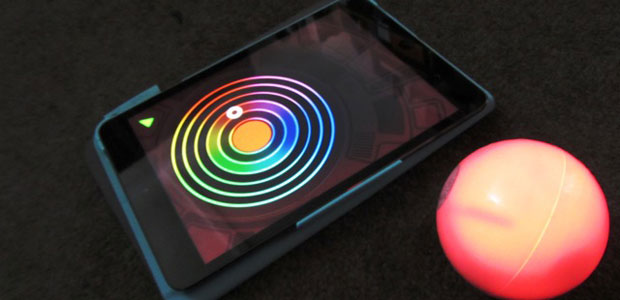 To hand, the Sphero is about the size of a cricket ball, but harder. It's an opaque white when it's off, and comes with a charge cradle, a little holder for storage (or it might roll off) and two curved ramp pieces, and a charge cradle and AC power. First time out of the box, you charge it for just 5 seconds until it lights up, then you're ready for business. After that, you charge it up to three hours for an hour of use. To align it properly for charging, rotate it in the cradle until blue lights in the charger's base flash a few times then goes solid, or use the direction-finder button in the sphero app to rotate the ball till the light faces you.
But first you have to pair it. Take it out of the charge cradle, and tap it twice (or bang it twice gently on something) and the light glows, making it discoverable. Then, under Bluetooth in Settings on your iPhone or iPad, it should connect ... I've done it up to ten times before that happened. Usually I had to put it back in the charger and press the Reset button first, take it out, tap it twice ... (the reset button can also power it down for travelling.) In fact, to pair it to do stuff to write about took so many attempts I eventually had to go to support and 'Forget' the Sphero, power the iPad off and on again, and try again.
So I tried with my iPhone and, again, no luck. Luckily, salvation was at hand - I let it charge all night and the next day, it paired straight away.
With the apps, the basic Sphero app has you calibrate it and set the acceleration speed, and lets you pick a custom colour that it glows. You can choose to use an on-screen directional thumb controller, or tilt where you tilt the iDevice more for faster, and side to side to steer. You can also set tracks you draw on screen (zig-zag, loop, figure of 8 etc) then press Play and it drives the route, which is pretty cool, and you can make it strobe. I preferred the thumb control to tilt, as reaction time to the device seemed faster. This app (by the makers of Sphero) also has 'mission's which are really training routines to help you gain control of the device. You get little pay-offs from demonstrating the skills - faster acceleration, more colours ...
Apps include the Zombie game The Rolling Dead (ha ha) - but this kept crashing on me so it was unplayable. Others have you race to markers, there's a drawing one that didn't seem to do anything, and there's even a music controller, as the Sphero can also double as a sort of wireless handheld controller. But this didn't work at all - just crashed. My other reservation would be that many of the abilities of the Sphero and related apps means you need a large space for the ball to roll around in.
I have seen the Sphero for NZ$105 at Expansys - RRP is more like $150.
So - this might turn into a really great thing, but it's not there yet. I will write about the more serious Livescribe next.