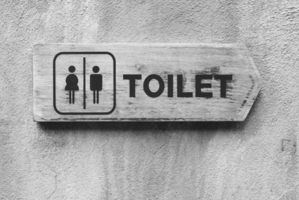 THE FLUSH THAT BURNS: When we flush a toilet the waste probably goes to a septic tank or through pipes to the town's sewage treatment plant. But 2.5 billion people around the world don't have that luxury. A toilet being developed at the University of Colorado instead heats human waste to a high enough temperature to sterilise it and create biochar, a highly porous charcoal that can be used in agriculture to stabilise soil. The work's done by 8 parabolic mirrors. They focus concentrated sunlight on a postage stamp sized spot on a quartz-glass rod connected to 8 bundles of fibre-optic cables, each consisting of thousands of intertwined, fused fibres. That energy then heats up a reaction chamber to over 315 C to treat the waste material, disinfect pathogens in both faeces and urine, and produce char. The toilet could serve 4 to 6 people a day and costs less than 5 cents per day to run. The next step is to test the toilet beyond the lab. It'd be great to see a scaled down model for disposing of dog poop in dog parks.
SUN LIGHT, SUN BRIGHT: Solar power is considered a good thing with few downsides. One big drawback has emerged for the Ivanpah solar power plant in the US though: the huge array of 170,000 garage door-sized mirrors track and reflect sunlight as they should to the towering central collectors but they're also blinding pilots who fly nearby. In late morning and early afternoon, pilots flying from the northeast to the southwest find the glare blinding. The glare is potentially affecting more than 100 flights per day.
AN ORDERLY CLEAN: Using laser mapping the BotVac from Neato Robotics not only scans to map its environment but plans the most efficient vacuuming course. Because of its mapping ability it methodically vacuums in straight lines, instead of bumping around a room randomly. If it has to stop in the middle to recharge it returns to the spot where it left off to finish the job. Pet owners may want to schedule automatic daily cleanings. So long as the floor ends up clean do straight lines really matter?
LIGHT FINGERED: With a $40 add-on a smartphone could soon be helping pregnant women in developing countries stay alive. The Phone Oximeter from LionsGate measures blood oxygen levels through a hospital-standard light sensor attached to a person's fingertip. The data is fed to a smartphone where an app provides medical workers with crucial diagnostic information. The system has an accuracy of 80%, a great deal better than no diagnosis at all.
COLLISION ALERT: The Samsung Galaxy Core Advance phone can take an Ultrasonic Cover that emits a high-frequency sound the human ear can't hear. The case then listens to the sound that bounces back, like a radar. If it detects a person or object up to 2 metres away it vibrates or uses text to speech to alert the user. This could be especially helpful for people with vision impairments. Meanwhile the Optical Scan Stand lets the phone user put their phone in a cradle over a page so an app can scan the text and read it aloud. I guess you wouldn't want to take that case into crowded places.
Miraz Jordan, knowit.co.nz