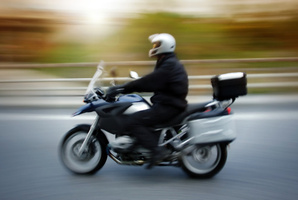 AIRY BIKERS: Inflatable vests are very handy for those on boats, but they can help motorcyclists too. The Dainese D-Air Street motorbike jacket uses sensors on the bike itself and a wireless connection to trigger immediate inflation of airbags in the jacket. D-Air Street covers the chest, upper abdomen, collar bones, neck and back, protecting them from impacts. A battery in the jacket has to be recharged every 30 hours or so, but that can be done via USB. A SIM card handles the connection with a control unit on the bike. Perhaps cyclists could have a similar thing.
BABY MONITOR: Keeping an eye on baby can be challenging but Sproutling's Bluetooth-enabled anklet is there to help parents. The system includes a base station and a small camera that can detect the heart and breathing rates of the baby as well as the temperature and humidity in the room. The data is fed to a smartphone app that can even predict when the baby is next likely to wake up and send text or email alerts.
Grab a few minutes to relax.
GO WILD ON THE PHONE: Thankful for that Gorilla Glass in your phone as you give it a bit of a rough time? You could also add a Rhino Shield. The polymer screen cover has a 3H hardness to protect from scratches and an oleophobic coating. It's only 0.029 cm thick and transmits more than 95% of the light from the screen, but it can withstand at least 5 times the impact energy of Gorilla Glass 2 on its own. Gorilla + Rhino = strong.
BREAD, MILK, TABLET COMPUTER: You might expect the big name computer brands to be offering tablet computers, but the local supermarket? In the UK Tesco supermarkets have released their own Android tablet computer called the Hudl. The 7 inch HD tablet is designed for entertainment, communication, shopping and games. It has a 9 hour battery life while playing videos, and up to 48 GB of memory. The aim is to make tablet computers more available to families. Supermarkets are a logical place to sell a mass market gadget.
SCATTERED SHOWERS: In San Francisco thousands of homeless people would like to be clean — having a wash, brushing their teeth or taking a shower. But there are very few places where that's possible. Non-profit group Lava Mae aim to transform some old city buses into mobile bathrooms and take them round the city so homeless people can bathe. Each bus will have 2 hot showers, each with its own private changing area, and 2 toilets. That's cleaning up a city.
Miraz Jordan, knowit.co.nz