People are embracing mobile devices, says Ambient Design's Matt Fox-Wilson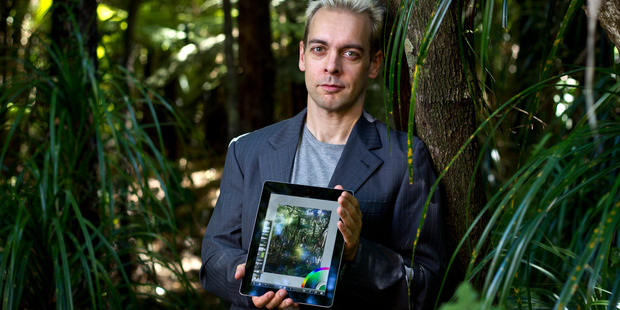 Matt Fox-Wilson of Ambient Design wrote software for desktop computers before making the move into the world of mobile apps. Unlike other developers, who bang out a succession of apps in the hope there will be a hit among them, Fox-Wilson and his fellow company director, Andy Bearsley, have stuck with what they've always done.
"Our core principle is taking high-end graphics and making it available in a consumer form that anyone can use," says Fox-Wilson, who works from his home near Auckland's Bethells Beach. Ambient Design's main product - and sole iTunes App Store offering - is painting simulation program ArtRage.
"The thing that differentiates ArtRage is that as well as tracking colour on the canvas, we track the amount of paint - its wetness and how reflective it is - so that as you make a brush stroke, you'll see the paint thin out and the texture of the canvas come through. You can then paint another stroke over that and see the paint blend."
Apple's touch-sensitive iPad tablet is proving a natural medium for the software, Fox-Wilson says, since users can paint directly on the screen - not literally, but with a finger or stylus.
Fox-Wilson and Bearsley's graphics software credentials run long and deep. In the 1990s they wrote a 3D painting program for the company that became Right Hemisphere, bought last year by German business software outfit SAP. And they worked for the US developer of image manipulation package Kai's Power Tools.
Ambient Design's approach is to write software that will run on any platform - whether Microsoft Windows, Apple's Mac OS or mobile devices - and it will continue to do so. But user preferences are changing, Fox-Wilson says.
"What I'm seeing is a shift to people using mobiles rather than desktops, which surprises me because desktops are more powerful. In the case of ArtRage, the inherent appeal of being able to pick something up, hold it in your hand, walk around with it and paint without having to sit down at a desk is pushing people towards that."
In the comparatively short time ArtRage has been available through the iTunes store - the iPad version was released in October 2010 - it has come to represent "a few 10s of per cent" of Ambient Design's income.
That hasn't come at the expense of ArtRage's desktop sales, Fox-Wilson says, which are holding up, but has gone straight on to the bottom line.