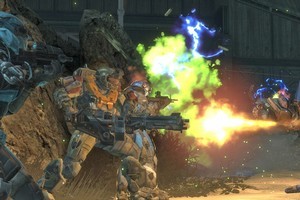 Xbox 360 owners in New Zealand are among the very first in the world to get their hands on the official prequel to the Halo series that, for many people, has defined the last nine years in gaming.
Before Reach went on sale in stores around the country, nzherald.co.nz spoke to two of Bungie's most important developers: Chris Opdahl, who served as the campaign design lead, and multiplayer producer David Allen.
Halo has been around for nearly a decade. Can someone who is new to the series expect to match up against someone who is on the verge of becoming a 10-year veteran?
Allen: There's definitely still a learning curve. Our matchmaking system does a very good job of matching players of equal skill.
The other thing we've got that is very helpful is the Arena system. The really hardcore players - like the guys who have been playing for 10 years - are probably going to gravitate towards that. For the more competitive players, that's a way for them to be ranked against each other.
I would suspect that brand new players are going to stick more to the standard games rather than Arena, but we'll see how that plays out.
There are a lot of multiplayer maps rehashed from Halo: Combat Evolved and Halo 2. What about Halo 3?
Allen: I don't think there are any maps from Halo 3.
Assuming they're not going to chase every secret that's out there, how long would a player expect their campaign to last?
Opdahl: Roughly Halo 3 length. On Normal (difficulty) we think that players are going to have a similar experience.
One of the big differences for Reach is that the AI scales the difficulty on co-op. If you're playing with your four-player friends like that, you'll see a much more difficult challenge.
People who jump in with two players will actually see a quite-a-bit longer game than in previous Halos.
Allen: Just to be super clear, that's with the same difficulty level set. If you're on heroic with one player it's going to be a little bit easier than heroic with three players.
Opdahl: There are certainly a lot more ways to play the game than there have been in the past.
David, as the multiplayer guy, what's your favourite game type to play?
Allen: That's a good question. Of the new ones, I'm a big fan of Headhunter. It's just silly fun. It's similar to Slayer but whenever you kill somebody, instead of getting a point automatically they drop a skull. You have to pick up the skulls and take them to the capture point to get points.
Whenever Skullimanjaro is on and you have somebody running around with nine skulls, everybody on the map is after them, they blow up and it looks like Sonic the Hedgehog when all the rings fly out, that's always entertaining.
There was an issue in the beta with Headhunter, with the skulls, around players goose-guarding opponents in order to cheat. Has that been fixed?
Allen: There have been some tweaks to Headhunter. There were a few things that our internal test team found, like strategies that we tried to guard against.
Another thing from the beta - has the blast radius of the grenades been fixed? Those things were like small nuclear bombs.
Opdahl: I know they changed the fall-off of the damage for them, but I think the radius stays the same.
One for the dedicated fanboys and fangirls: Are you going to open up Recon (the ultimate armour customisation set for Halo 3 and Halo 3: ODST) to everybody once Reach comes out?
Allen: You know, that's a good question. I actually don't know the answer to that. It's available through ODST now if you get all the Vidmaster achievements, which is no easy feat, I know.
It can be a pain trying to round up four people to get through Firefight on ODST. Being that Halo 3's done its dash, is it something to look at?
Allen: I'm not sure. I'll ask when we get back.
Opdahl: Yeah. That's a good question.
I'd actually written that question as "Can I haz Recon?"
Opdahl: We get that a lot, walking around with Bungie t-shirts on. Some random 13-year-old kid will drive by (and shout) "Hey! Can I haz Recon?" from his bike!
* Read our review of Halo: Reach
* Visit Bungie at www.bungie.net