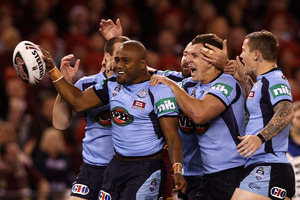 Was Wednesday night's State of Origin game the greatest match in Origin history?
No, I don't think so but it will rate among the best.
The one pleasing aspect about this series is that New South Wales has reinvigorated the rivalry.
The previous six series have been fairly one-sided, with Queensland predominantly being the stronger outfit.
The 2011 series saw NSW return some respectability to the jersey and the players showed a fight that has long been missing.
Ricky Stuart, despite his antagonistic approach to media and the infidels north of the border, instilled some pride back into the NSW team, which in turn encouraged their supporters who believed they were on the verge of breaking the drought.
Regardless of the result on Wednesday night and the seventh consecutive series loss to Queensland, there is much to take from what NSW delivered over the three games.
They were no longer confined to being fodder for their opposition.
Queensland did not play well in the first two encounters and were battling to withstand the pressure placed on them by the New South Welshmen and were still capable of winning that second match in Sydney.
However, NSW needed to improve in travelling to Suncorp Stadium and beat their hosts; they did improve on the back of some dogged defence in the second half to hold out a Queensland side showing the dominance we have come to expect.
The try-saving tackle by Josh Morris on Greg Inglis in the latter stages of the game proved they were now showing the fight that's been missing.
Morris then scored the try that brought them back into contention and those south of the border believed the impossible was possible.
I'm glad the competition between the two states is back on and next year cannot come quick enough.
Next year's winner is no longer a certainty; change is in the air.
The NSW hierarchy need to secure Stuart as their coach to maintain the momentum. Not until they win and internalise that fighting quality shown this year, can they afford to allow Stuart to move back to a club.
The recipe has been found; don't alter the ingredients until the environment has been ingrained within a playing group.
Given the politics inherent within NSW, they may deem it necessary to 'improve' on what has been built this year. If so, they will fall victim again to their own ego and plunge State of Origin back to one-sided contests with themselves suffering at the hands of Queensland.