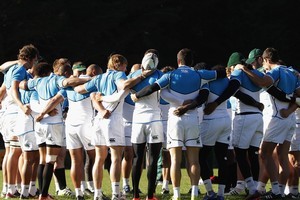 The South Africa Rugby Union's (SARU) boss has rejected accusations that the 21 injured players left at home for the Australia and New Zealand leg of the Tri-Nations have been involved in a secret training camp in Rustenburg.
SARU chief executive Jurie Roux used the naming of the Springbok team to face the All Blacks here on Saturday to answer media reports that Springbok technical director Rassie Erasmus was overseeing a training regime for the players.
"I'm not denying that they're at Rustenburg. I'm denying the fact that there's a secret training camp - I've got my players in a single high performance entity being rehabilitated - that's it,'' an irate Roux said.
His denial came after Springboks coach Pieter de Villiers was forced to fend off questions about the training camp on his arrival in Wellington yesterday and Roux was mystified about the traction the report from South Africa had received.
"It is very simple, it is a unique thing to me that people are worried about this at all.
"I run a multi-million rand corporation where my biggest asset are my players. They're injured, I need to do something to get them ready for the World Cup.
"What do you do with an injured player? You don't send them off to Bali or Mauritius to have a holiday. You put him into your high performance centre, you put him with the best doctor you can find ... and you put him on a programme to rehabilitate him to get back to the World Cup. What more would you expect?
"I don't understand the conspiracy, I don't understand the confusion. This is a simple thing, if I don't put him on a medical programme, don't have him rehabilitated for the World Cup I need to come to New Zealand for a job - which is the last thing I want to do,'' the former accountant said.
Roux said he had answered questions from Sanzar today about the issue and was confident there was no confusion over their approach.
He defended doing what they thought was right for their players to get them to the World Cup.
"We're doing our best to get our team ready."
In response to a suggestion that the New Zealand Rugby Union, unhappy that a weakened side had been sent to New Zealand, might send an All Blacks 'B' side to South Africa next month, Roux said they were entitled to do what the perceived was best for them.
"New Zealand must do what's in their best interest. Whatever team they send will be an All Black team and will be treated as an All Black team. They're a proud nation, they've got proud traditions and we'll be happy to receive any team they send."
- NZPA