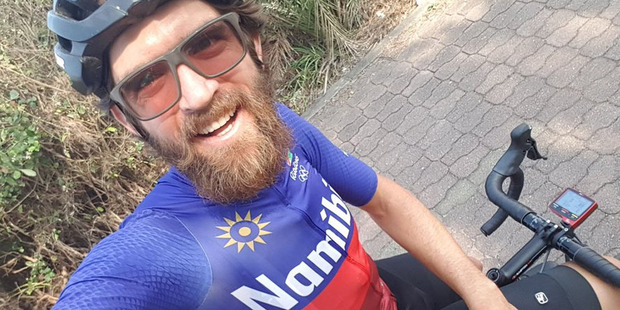 Namibia's Dan Craven didn't manage to finish Rio's road race cycle event.
Not one to mope about, the 33-year-old was offered the opportunity to compete in the event after a last-minute withdrawl.
Craven asked his Twitter followers if he should enter the time trial - and of course they said yes.
Armed with a road bike and regular helmet, Craven compared the challenge ahead of him to "Entering a Formula 1 race with a NASCAR."
The cyclist became an instant favourite with the fans... And finished dead last with a time of 1:27:47.93.
Yip. My Time Trial bike, helmet and kit is ready to go! #Rio2016 pic.twitter.com/MVn3OWN14k

— dan craven (@DanFromNam) August 9, 2016
But winning or losing, it didn't matter, Dan from Nam was stoked.
"I'm such a proud Namibian. I love my country. The chance to do this. I can say I competed in an Olympic time trial."
Craven has since been dubbed the world's favourite multi-sport Olympic athlete with fans contemplating the other events he could enter.
His diving skills seem to be on form.
@DanFromNam my favorite multi-sport Olympian. #Olympics pic.twitter.com/gmSB4XNo75

— Craig Ludrick (@CraigLudrick) August 11, 2016
His helmet may not have been quite right for the time trial, but looks great in the ring.
@pelotonbrief @DanFromNam #Dandoesolympics Dan in the boxing ring! pic.twitter.com/GXnoPm8P5H

— HV (@ProCyclejourney) August 11, 2016
Don't even get us started on his rhythmic gymnastics.
I'm really enjoying this @VeloVoices @rich_mitch @DanFromNam @pelotonbrief pic.twitter.com/srBaZjC0Sf

— Ben Hobson (@BenHobson) August 11, 2016
Craven's synchronised swimming potential is out of this world.
Hey @DanFromNam we heard you want to try some other Olympic sports. Here's some inspiration to get you started. pic.twitter.com/JdAp5sh1um

— The Peloton Brief (@pelotonbrief) August 11, 2016