In three years of NBA stardom, Steven Adams has transformed New Zealand basketball.
Steven Adams is on track to become New Zealand's richest athlete, and New Zealand basketball are cashing in.
As Adams delights the NBA with his increasing on-court impact, quirky quotes and fantastic facial hair, the magnitude of his rare achievements are beginning to be realised at home.
Other Kiwis have had stints in the NBA, but none to match Adams' three seasons with the Oklahoma City Thunder. The towering centre has become one of the best defensive anchors in the game, and his averages of eight points and 6.8 rebounds a game undersell a season which ended with standout performances on the playoff stage.
His accomplishments have provided more for New Zealand than nationalistic pride, however, with the flow-down effect reaching the sport at all levels.
What was a trickle of New Zealanders heading to play in US universities has evolved into a surging stream, with high-profile campuses such as Kentucky, Oklahoma, Washington, Virginia and Indiana all now housing top New Zealand basketball talent.
Player numbers at the secondary school level have increased by 18 per cent since Adams stepped on an NBA court, jumping from 18,780 in 2012 to 22,186 last year. That number didn't increase at all between 2003 and 2012, highlighting the Adams effect. Regions are also reporting consistent growth at primary school and senior men's and women's levels.
With Adams still years away from his prime, the rise of New Zealand basketball shows no signs of slowing down.

Ask Basketball New Zealand chief executive Iain Potter what Adams has done for basketball in New Zealand, and he reels off an array of benefits.
"There's been a steady increase in the interest in basketball - the New Zealand Breakers have been a fantastic contributor to that over the past decade - but the Adams factor has lit a fuse under it, really," he says.
"Any sport benefits from having players which offer a celebrity status. He's New Zealand basketball's greatest celebrity.
"He's in the news regularly, and it just brings attention to the sport. It provides a visibility and a positive presence money can't buy."
That key element - money - is a dark word in New Zealand basketball circles. High Performance Sport New Zealand allocated $200,000 for basketball in 2016, a figure eclipsed by lawn bowls.
However, the sport's rising popularity has resulted in significant handouts from the TAB, with more than $1 million allocated to Basketball New Zealand in 2015.
National bodies receive 1 per cent of overall betting on their sport in this country, and basketball's pot is likely to increase next time around.
More intangible sources of income have also filled the void. The most vital, according to Potter, being Adams' impact.
"Steven Adams has highlighted to the college recruiters in the States that there is a population here with talent within it," he says.
"The other thing it has done here is said to all New Zealand kids who are handy basketballers that there is a US college pathway."
That pathway is becoming well-trodden, with more than 100 Kiwi men and women set to take to US university courts in 2016.
"The growth rate has been quite startling," says Potter.
"There's always been a flow of young basketballers going to US colleges in the last few years, but having 40 sign up for scholarships in the last 12-15 months is quite remarkable.
"All signs are that that will continue at this sort of level in the foreseeable future."

Mark Dickel chuckles as he recalls the difficulties of gaining a university scholarship in the 1990s.
"I just didn't take no for an answer," the former Tall Blacks point guard reminisces, but the University of Nevada, Las Vegas standout says it is now all about connectivity. "The world is very small. They can recruit a kid from Timaru just like they can a kid from LA."
Now a coach with the Canterbury Rams and Mainland Eagles Academy, Dickel's goal is to assist his young proteges towards university scholarships, with dozens of southern basketballers picking up full scholarships every year.
He says Adams has opened eyes to the assortment of talent Down Under.
"If you're good enough, you can get there and obviously with Steve doing well it's enabled people to take a chance on people they maybe wouldn't have previously.
"Now there's going to be a whole generation of people in New Zealand who believe they can do that."
Adams' influence is genderless, with the country's premier female players also benefiting from the increased exposure and the newly illuminated university pathway. New Plymouth Girls' High School head coach Trent Adam says the impact of Adams is palpable, with more overseas coaches scouting at national events.
"The top-end players open the doors and now, because more people are looking, there are more opportunities at varying levels. There are so many scholarship opportunities in America. It's not only the elite who get it, it is the dedicated who get it."
There is little disagreement that New Zealand basketball is at an all-time high.
While the Tall Blacks haven't reached the dizzying heights of 2002, when they finished fourth at the world championships, the impact of Adams, the Breakers and the many US university recruits has increased the depth of talent.
The Tall Blacks are likely to be more visible as they move into the Asian Olympic qualifying zone and are expected to play six games in New Zealand over the next few years after a lengthy period when games on home soil were a rarity.
Adam also says the quality of the field at the secondary school nationals has significantly improved, and Dickel sees the effect across all age groups.
"There are more teams entered in our competitions than ever before, there's more high school kids playing than even before," Dickel says.
"The interest in basketball is at an all-time high. [Average fans] now follow games because of Steve, so it's kind of crossed over a little bit, and I think it's more to do with Steve and the fact that young people, they identify it as a cool game.
"It's more real now for kids.
"They see there's a pathway now that they can do what Steve did because he's done it."
That pathway is expanding so quickly facilities are struggling to keep up. Potter singles out Auckland, Canterbury and Waikato as regions in particular need, with Auckland basketballers desperately requiring additional courts as playing numbers rise.
While that rise is rapid, basketball still has work to do in cementing itself as a first-choice sport for elite athletes, says Dickel.
"From my perspective, it's just about showing them why they should choose basketball rather than making them make a choice.
"We're not the sport like rugby whereby we can say, 'You play this sport, or else.' We've got to hope they choose our sport."
The sport is making inroads, however, with several promising netballers being swayed by the prospects of US university basketball scholarships, and the lesser physical toll relative to, say rugby, is a positive for some parents.
"You're not worried about your son or daughter getting a head injury by playing it. I think there are things in favour in our country towards basketball," Dickel says.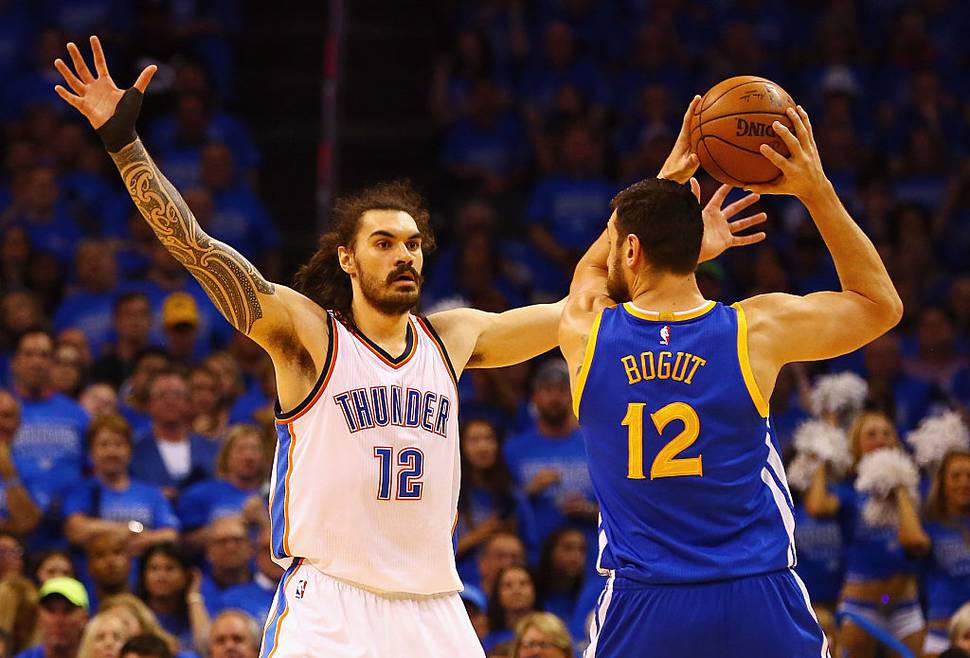 As Adams prepares to cash in on a potential US$100 million deal when he becomes a free agent at the end of next season, Potter realises the golden opportunity Basketball New Zealand have to light a fire under their sport. "We're trying to provide more tournaments and a more coherent national basketball curriculum. We just have to ride the wave.
"We're lucky we have the wave. He's helped provide the wave and we've got to ride it."
The key to doing that is development, argues Dickel.
"If we want our national team to be a top-10 team in the world every year, no matter what, then we need to find the kids who are nine, 10 and 11 now to do that.
"It's a matter of trying to get through to those kids earlier so they can believe they can beat the world."
Beating the world will be less daunting now, because Steven Adams has already conquered it.