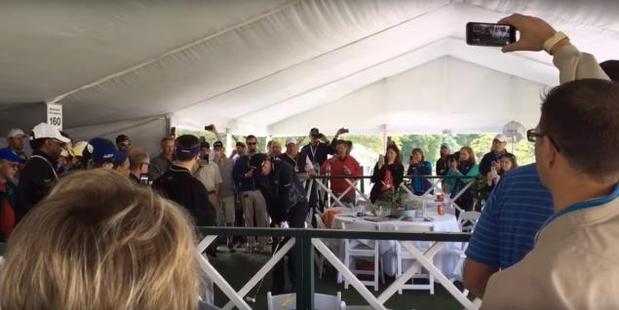 It looked like a scene straight out of Happy Gilmore.
On Friday at the Wells Fargo Championship in Charlotte, Jason Kokrak missed his second shot on the 18th hole so badly that it landed on the second floor of the hospitality tent at Quail Hollow Club.
But Kokrak responded with a miraculous recovery shot, chipping from inside the tent and landing the ball on the green as fans went wild.
.@jaykokrak from the second floor of the chalet on 18. @WellsFargoGolf @espn @MikeAndMike pic.twitter.com/J3vVEH9Zpn

— Nick Foy (@TheNickFoy) May 6, 2016
One of the best shots I've seen @jaykokrak @WellsFargoGolf pic.twitter.com/I9xDPF8NSf

— Carl Blackstone (@carlblackstone) May 6, 2016
The fact that Kokrak snuck his ball through without hitting any poles, seats or other obstructions is impressive. Putting it on the green is a different story.
Kokrak missed the par putt and made bogey on the hole.