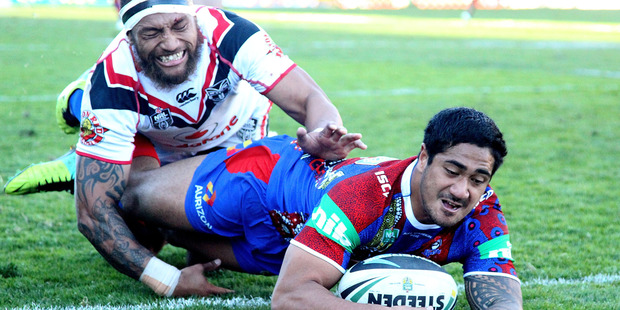 The Warriors' will have to vastly improve their discipline if they hope to topple the Roosters this weekend.
Ill-discipline and an inability to build pressure were crucial factors in Sunday's 28-22 loss to Newcastle, dashing hopes of a top-four finish.
Nine errors and nine penalties meant the Warriors allowed the Knights easy metres out of their own half, while a lack of patience often ruined promising attacking sets.
"We just didn't sustain pressure on the opposition for any period throughout the game," said coach Andrew McFadden. "Every time we started to build some momentum we'd come up with an error or give away a penalty.
"Our discipline was really poor and that shows in the penalty count and I don't think they made an error in the second-half either."
After earning plaudits for developing a new and improved tackling style under McFadden's watch, in which the focus is on lifting and driving the ball-carrier backwards, the past two weeks have seen the Warriors punished by late offloads.
In both games - against the Sharks [19 offloads] and Knights [15 offloads] - the Warriors struggled to lock-up the football and paid the price in yards and extra defensive work.
"That's certainly something we did address last week but we probably didn't handle that so well," said McFadden. "When you've got all the possession against you and the opposition get energy and then they create opportunities through their offloads and it snowballs that way.
"When we started to put pressure on the opposition those offloads went away," he said.
"We've got to be a little more disciplined when we've got the football and we've just got to have a bit more resilience with our defence."
The Knights had a bit of luck when they ran a blind-side play from a 10-metre scrum that saw Sione Mata'utia race away for his second of three tries, with Shaun Johnson colliding with referee Gavin Morris as he attempted to shut down Joey Leilua.
Frustrated captain Simon Mannering voiced his displeasure at the time but later refused to use it as an excuse.
"I guess I haven't really seen it before and his explanation was that he can't just disappear," Mannering said. "We just have to be a bit better there and hopefully the referees are, too. That's no excuse and throughout the game we just didn't build any pressure and they executed a lot better than us."
With just three games remaining - against the Roosters [home], Titans [home] and Panthers [away] - improvement is needed across the board, with each result crucial to the Warriors' chances of claiming a vital fifth- or sixth-place finish.
"We didn't build pressure throughout so we could hopefully score points later on. We didn't do that today and didn't do that last week," Mannering said. "When we have we've got the results and we're definitely going to have to do that next week against the Roosters."