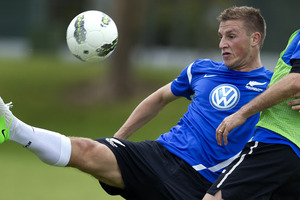 Wolverhampton Wanderers manager Kenny Jackett has confirmed he's interested in signing All Whites strike Chris Wood for his Championship side.
Less than a week out from Leicester City's opening Premier League game of the season, it looks likely that the 22-year-old will move back down to the Championship.
"We have made enquiries and we are in conversation but it's a long way off being sorted," Jackett told Sky News UK after his side's 1-0 win over Norwich City.
"I don't really want to talk about other team's players. We have made an approach, but we have got a long way to go in terms of sealing him as a Wolves player."
Wood scored four goals in 26 matches for Leicester last season as they topped they the Championship. Wood played under Jackett during a loan spell at Millwall in 2012.
Wolves also earned promotion last season - from League One back to the Championship after relegation in the 2013.
If the transfer is made Wolves will be Wood's sixth Championship club in five seasons.