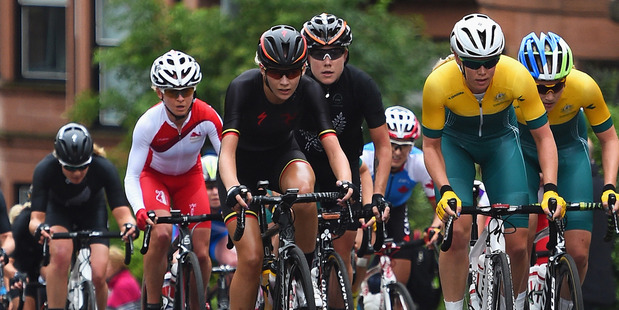 Gold medalist Linda Villumsen has backed up her time trial win with a fifth-place finish in the road race around Glasgow.
The Kiwi cyclist was only three days removed from a breakthrough victory and her efforts last night (NZT) were almost as impressive.
While Villumsen has a long-standing pedigree in the time trial - claiming at medal at five straight world championships - the road race is a different beast.
Competing against opponents instead of the clock, Villumsen had to battle heavy legs and a lack of help from teammates after being the only Kiwi capable of joining the decisive break when the front pack split.
Villumsen was slightly downcast despite her successful Games, disappointed more for her team than herself, but she will look back fondly on her achievements.
"I'm happy with that," she said of her results. "But it would've been nice to see [a Kiwi] on the podium."
There was little chance of that being Villumsen, even after she managed to make the group that would determine the medals. Sprinting on the final straight is hardly her forte and Villumsen's energy had already run empty, leaving her longing for an ally.
"I was hoping that [the front group] would come back together. I kept looking back and when two other riders came up I just prayed someone would be in there."
It wasn't to be, leaving Villumsen in a fruitless battle for bronze after England's Lizzie Armitstead and Emma Pooley rode away for a 1-2 finish.