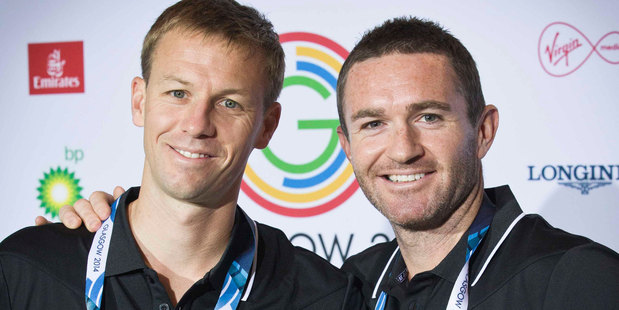 A fourth Commonwealth Games is a time for reflection and a renewal of responsibilities for Dean Couzins and Phil Burrows.
The senior pair of the New Zealand men's hockey side spoke in Glasgow today about their role within the side ahead of their opening game against Canada on Friday morning (NZT).
Having played at Manchester in 2002, Melbourne in 2006 and Delhi in 2010, Couzins and Burrows are old hands when it comes to the Commonwealth Games, but the excitement has hardly lessened as the two men approach the tail-end of their careers.
"I'm really looking forward to my fourth Commonwealth Games," Couzins said. "They're really enjoyable events. To be part of a wider New Zealand team is something that is quite unique, so I'm looking forward to that.
"I think the team's well-placed. We've been to World League, Champions Challenge, World Cup, so we've spent a lot of time together and played a lot of matches."
With all that recent experience together, a podium finish is the bare minimum Colin Batch's side are targeting in Glasgow. Much of the responsibility in accepting that challenge falls at the feet and Couzins and Burrows, something of which the Kiwi captain was well aware.
"It's not just Phil and I - there are other guys - but we have to ensure we lead by example," Couzins said. "Small things like doing your recovery well, doing your preparation well - you want to be role-modelling those types of things. That's the type of people we like to think we are.
"I think that Phil does a fantastic job of the 'follow me' type of leadership. He's the kind of guy who can get the guys really fizzing before a game and if we're chasing then he's definitely one of the guys you want out there getting stuck in."
Burrows, for his part, rated Glasgow neat the top of his Games experiences, with the only problem being the increasingly lengthening line at the food hall in the athletes' village.
Fortunately for the Black Sticks, the veteran's savvy extends to finding the right time for a dinner run, a manoeuvre honed at various tournaments in the 12 years since Manchester.
"It was a long time ago but it was a very special event," Burrows said of his first Games.
"To win silver there, we weren't ranked as highly as we are now so it was a good result. Here we're looking to do the same."
Topping their pool and avoiding Australia until a potential gold-medal game will be crucial in achieving the aim, with Couzins concentrating on creating the type of long-lasting memories that arrive only with success.
"I remember back to our first Olympics, back in 2004, and one of my most vivid memories is [Hamish] Carter and Bevan [Docherty] coming back, and celebrating with them.
"But the biggest memories are the ones you create yourselves and that's something we're trying to do by ensuring we're on the podium."
- APNZ