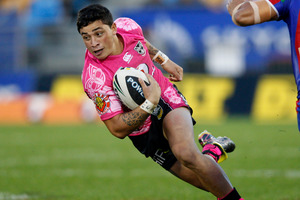 Former Warriors fullback Kevin Locke is settling into life in the UK and preparing to make his Super League debut for Salford.
The 25-year-old has joined the Red Devils on a three-and-a-half-year contract and despite feeling jetlagged after arriving yesterday, completed his first training session with his new teammates at AJB Stadium today.
"I feel a bit crook," Locke told Press Association Sport.
"I felt a bit sick at training. I'm getting over it slowly. I did a full training session today."
Salford coach Iestyn Harris is unlikely to play Locke against Huddersfield on Sunday (NZT), with the home match against Hull a week later more likely to be his first outing for his new club.
"I'm not too sure, maybe next weekend," he said. "I haven't played for four weeks and you've got to take the travelling into consideration. Obviously I've got to get a bit fitter.
"I'm pretty excited to be here, though. It's something different.
"It has been a bit of a frustrating couple of months but I'm enjoying being here."
Salford, who have begun selling Locke merchandise, are hoping his arrival will spark the Red Devil's into a late season run of form, after enduring a disappointing first half to their campaign.
After a delayed start to the year through injury, Locke found himself struggling for game time at the Warriors, with English import Sam Tomkins filling the No 1 jersey.
The Northcote junior has some familiar faces around him at Salford, including former Warriors teammate Steve Rapira and former Junior Kiwi Rangi Chase.
"I spoke to Steve and Junior (Sau) about the club - and Rangi - and they said I'd love it," Locke said.
"I guess I have to get used to the time difference yet. Hopefully I'll play next weekend, that's the game I'm looking to play in."