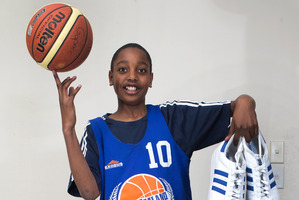 The auction of a pair of shoes donated by Oklahoma City Thunder star Steven Adams to help a young Wellington basketballer reach his dreams has closed with a final bid of $1510.
The money will go towards funding 11-year-old Tafara Gapare's trip to Las Vegas as part of the New Zealand Basketball Academy's Under 13 development team.
Tafara was given the size 19 shoes worn by Adams personally when the two met at the academy during Adams' recent trip home.
His mother, Mandy Gapare, says she couldn't quite believe how much money the shoes had raised after seeing a leading bid of just $305 on Tuesday.
"I was quite shocked to wake up and see $1500," she said.
"We were so amazed."
Ms Gapare says she spoke to the buyer personally to offer her thanks.
"I don't think she [the buyer] bought the shoes because she wanted them, I think she wanted to support Tafara," Ms Gapare said.
The winner of the auction will also be given the opportunity to meet Adams and have the shoes signed when Adams returns to New Zealand in July. Tafara's team will be one of eight Kiwi sides taking part in the July tournament. The trip is expected to cost around $4200 per player.