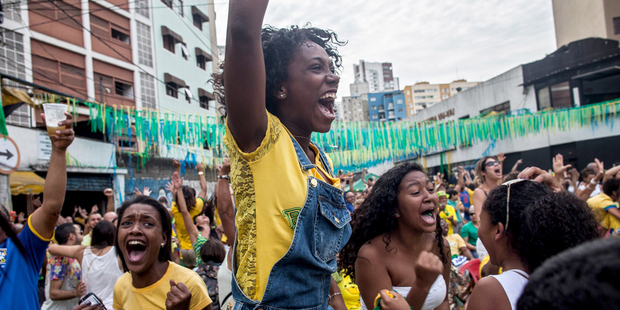 So the greatest party on the planet continues.
Or at least for another few days until the Brazilian team has to line up for their quarterfinal.
The entire host nation was having a collective panic attack today as the Selecao flirted with disaster in the second-round match against Chile, but Neymar kept his head cool to slot the winning penalty before Gonzalo Jara put the final spot kick against the post.
That goal frame in Belo Horizonte is likely to end up in some football museum because minutes earlier the crossbar had prevented a blistering shot from Mauricio Pinilla to destroy Brazil's dreams.
The streets of Rio de Janeiro and Sao Paulo were deserted as every Brazilian gathered in front of television stations to watch their yellow army progress to the next round.
The fans were already toasting victory when David Luiz put the team ahead but after Alexis Sanchez equalised, the home team started to look distinctly shaky and many were fearing the worst.
As the match progressed towards the lottery of a penalty shootout and locals were getting that sinking feeling, police commanders, city officials, and hospital staff around the country would have been preparing for a busy night.
Each time a player missed their penalty, the tension doubled and after being in Brazil for a few weeks it was hard not to get caught up in their desperation.
When Jara hit the post, pubs around the Maracana and even the media centre inside the Rio stadium erupted, as many 'netural' journalists joined the local staff in their celebrations.
The roar from 200 million voices may have been heard on the international space station.
One of the few Brazilians who were unable to watch the match was Anna, the lady pushing the buttons in the stadium lift.
"I didn't see it, but I knew what was happening from the roars," she said.
"It was horrible, my heart was nearly bursting out of my chest and sweat was running down my back. But now we are all very, very, very happy."
Most impartial observers want Brazil to progress deep into the tournament to continue the local interest in the tournament but yesterday's performance would have given Brazil's rivals plenty of encouragement.
Still, almost every previous World Cup winner have had their lucky escape, like France's last minute win over Paraguay in 1998, Spain's lucky escape against the same Paraguayans four years ago, or Italy's dodgy penalty to beat Australia in 2006.
Once you lift that trophy, few remember or care about those narrow escapes.
On the other hand, Brazilians are highly superstitious and will view today's good fortune as an omen and possibly even divine intervention.
If the host nation lifts the World Cup on July 14, the good people of Belo Horizonte may need to make a pilgrimage to the Estadio Mineirao and kiss that goal post that kept them in the World Cup.