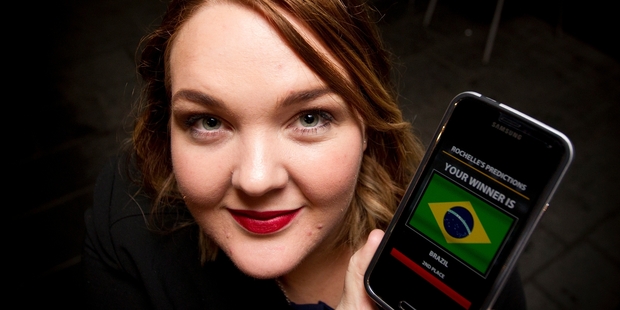 An Auckland woman's World Cup guessing game has turned into the chance of a lifetime. Mairangi Bay resident Rochelle Van Der Werff - who isn't a big football fan - is one of six Kiwis still in the running for a $5 million prize offered by the TAB.
More than 33,600 punters had entered the competition, which offers $5 million to the punter who guesses the outcome of all this month's games.
All six remaining punters are relying on Germany to beat Portugal this morning, so if the opposite happens, they will all be out before the pool stage is over.
Ms Van Der Werff, 26, a beauty clinic manager, decided to enter the betting competition after hearing about it through her "sports-crazy" boyfriend James Wells, 26.
She said she wasn't a big football fan and did not normally follow the sport. She watched the opening ceremony but did not recall all of her picks, which took only a few minutes to make.
She believes she picked Brazil to win the Cup.
"It was luck of the draw."
While Mr Wells' choices failed to survive the weekend, Ms Van Der Werff's picks have kept her in.
"I kind of just went with my gut instinct," she told the Herald.
"I've got Dutch heritage and that's kind of who I backed for a little bit."
She also said her boyfriend had kept her informed about the matches, and admitted she might "have to keep an eye" on what was happening now.
A TAB spokeswoman said if no one won the $5 million, a prize of $1000 each was offered to the five punters with the most guesses right.
Today's picks
Six people are still in for a shot at $5 million in the TAB's One Shot campaign.
Here are their picks for today's games (Germany v Portugal, Nigeria v Iran, Ghana v USA):
Germany, Nigeria, USA
Germany, Nigeria, USA
Germany, Nigeria, Ghana
Germany, Nigeria, Ghana
Germany, Iran, USA
Germany, Iran, USA
Source: TAB
Follow the World Cup here.