Warriors owner Eric Watson is in no hurry to slow the rollercoaster journey, writes Michael Burgess.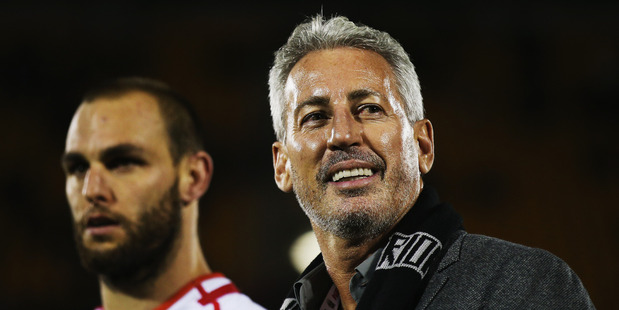 For someone who claims not to seek the limelight, Eric Watson has spent a lot of time in it in 2014.
It's been quite a year for the Warriors owner.
He's sacked another coach, endured a (very) public spat with fellow rich-lister Owen Glenn, signed a new coach, appointed a new chief executive and defied expectations by choosing for the club to stay at Mt Smart. And, on the side, he has trademarked the name of one of the most famous cocktails in the world.
"It's one of those things," says Watson. "As an owner, you pick and choose your moments but I have had to get involved."
It feels as if it has always been this way with the Warriors - periods of relative stability, punctuated by manic moments.
Watson took over in 2000, with the club on their knees. Since then, there have been the highs (two grand finals, two preliminary finals) among spectacular lows. Watson nominates the retention of Stacey Jones in 2000 as a key moment of his tenure.
"He had had enough and wanted to go. He was gone. Stacey had to be convinced there was a future. He felt let down by the performance of the previous owners and CEO but he was brave enough to sign up.
"I spent hours with him at my place in Takapuna - basically pleaded with him - and put our case. We went out on a limb to get Stacey to stay. Awen Guttenbeil was next and we started building a club."
Watson puts the recent re-signing of Simon Mannering in the same bracket.
"If he hadn't re-signed, I don't know if we would be where we are now. The morale of the organisation would have slumped quite considerably."
What about Watson's worst decision?
"I know what you want me to say ... I'm not going to say that," laughs Watson, perhaps in reference to a certain knight. But there are regrets. We probably rushed the appointments of the coaches previously. Perhaps we could have taken a bit longer but you are under so much pressure to line up with someone.
"And the points deduction [for breaching the salary cap in 2005]," Watson adds. "We should have been on to it earlier."
He won't elaborate much on Glenn but says the fracas took him by surprise.
"That public outburst, criticising the board, and me, and everyone around the [Matt Elliott] decision ... I think everyone was astonished but people got to see the reality of the situation."
Watson is confident the ownership situation will be resolved but is in no hurry.
"We have not made them an offer at any point of any number. That nonsense he was spouting off offering $1 million ... I don't know where that came from."
As well as being a hard-nosed businessman, Watson also comes across as a fan.
He raves about the two most recent wins over the Storm ("we were underdogs, we were fantastic") and has a large, framed portrait in his London gym commemorating the team's first win over the Broncos in 2000. He also maintains a prominent Twitter profile, surprising fans by replying to questions no matter where he is. And then there was that famous stoush with Russell Crowe in London, perhaps after a league-related jibe.
"Our paths have not crossed again since then," Watson laughs. "[It was] one of those things that occurred and no hard feelings. You just move on. Neither of us are up for a rematch -- we are getting too old."
The Warriors' rollercoaster has become par for the course over the past 14 years but Watson predicts those days may be over.
"I think Mt Smart, Andrew McFadden and Jim Doyle will turn out to be very good decisions," he says.
"We hoped to have an NRL trophy or two in the cabinet by now. We haven't got there yet but I sense we will get significantly closer in the next few years ... maybe this year. I will be very surprised if we're not in the playoffs this year."
If they become a consistent top-four club, which is Watson's challenge to Doyle, it will allow Watson to concentrate on his other businesses, which include a new beverage with a famed, old name.
Watson has trademarked the name Long Island Iced Tea and the product has been a big hit in the US, with plans for expansion.
"No one had the name so we snapped it up," Watson says. "You need to be quick, either in business or sport."