One of Auckland's many homeless people loves the NRL and is right at home with the Newcastle franchise.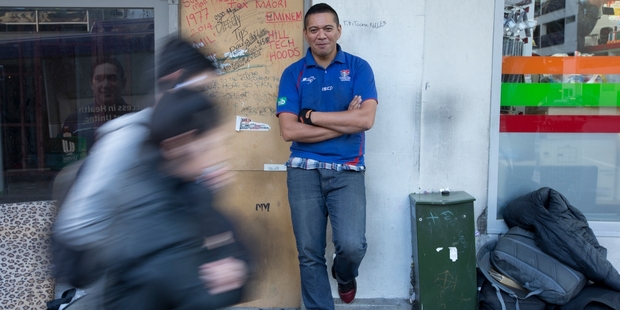 The Newcastle Knights have a contact on the streets of Auckland working on a secret game plan to help them beat the Warriors in Sunday's clash at Mt Smart Stadium.
Meet Eugene Paul. "Pauly" is the name he goes by on the streets.
One of the city's many homeless people, and New Zealand's most passionate Knights supporter.
Pauly can be regularly spotted around the city dressed head-to-toe in Knights team clothing.
He shares a close and unique bond with the Newcastle players and their legendary coach Wayne Bennett.
Every time the Knights come to town they know Pauly will be waiting to greet them at their hotel and ready to provide them with a carefully considered tip-sheet on how to bring the Warriors undone.
"I've been a Knights supporter all my life," Pauly declares, proudly sporting his blue and red team polo.
"They see me as a motivator and I've given them game plans on how to beat the Warriors.
"Of the couple of times I've shown them, the second time it came off. The Warriors were leading by 13 at halftime and the Knights swamped them."
During the Knights' most recent visit, for the NRL Nines tournament in February, Pauly received a rare and personal invitation from the notoriously private Bennett, to join the players on their team bus and accompany them to training.
"That was awesome. I went to their hotel. Jarrod Mullen always gives me clothes and Kurt Gidley gives me his gears.
"I put on all the gear, my T-shirt, jersey and jacket, and was waving goodbye when Wayne asked me, 'Pauly, do you want to come to training'?"
"I was like, 'Far out, are you for real?' So I got on the bus and sat next to Jarrod down the back."
Originally from Helensville, Pauly has been living on the streets for the past six years and despite his bright and friendly demeanour, admits life can be a struggle.
"Being on the streets isn't very easy," he explains.
"The best thing I've done is stick to myself. I don't trust anyone and that way I keep out of trouble.
"We had a club, the Kaipara Lancers, and incidentally, a Lancer is a knight.
"I'm just a person who loves my league and loves the NRL."
Pauly refused to show me the plan he has devised for Bennett this time around but agreed to let me in on a couple of his theories.
"It's pretty simple: if you kick it to Manu, then one running metre can easily become 100 running metres. So, if you kick it right out, you can take him out of the game.
"Sometimes, though, if Manu doesn't take the ball on a kick-return, he can be susceptible when running out of dummy-half and can knock the ball on. That's happened a couple of times.
"But the first thing I'll tell them is, if you're not prepared to roll up your sleeves and fight the Warriors, then stay home."
Pauly doesn't intend staying on the streets forever.
"I've got plans to one day get off the street but I've made good relationships with the people around here, outside the dairy here and the other shops.
"I know the owners and I'm trying to negotiate a job.
"One day, I hope to actually work for the Warriors and hopefully show them how to win a premiership."