At 1.81m and 87kg, Nanai-Williams wants to dispel the notion he's too little for tests.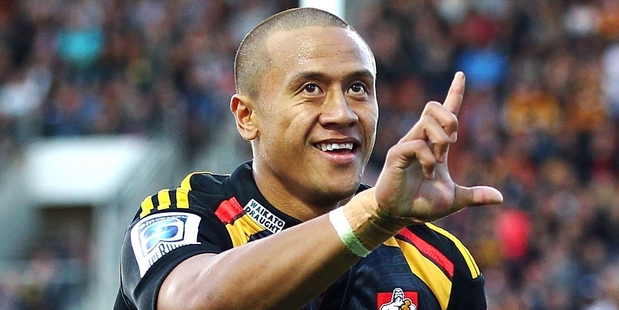 Some felt Tim Nanai-Williams could have spent his bye week with the All Blacks. He felt like hitting the gym.
The Chiefs utility has a point to prove as he heads into tonight's clash against the Hurricanes, with his career-best form insufficient to earn a call-up to the All Blacks training camp.
A perception surrounds Nanai-Williams that he's too small for international rugby; that his ability will keep him on the fringes of the All Blacks squad but his size will prevent him from breaking through.
Nanai-Williams has heard the talk and the All Blacks selectors would have to forgive him for disagreeing.
"It was funny to see that - some of the mates were giving me a bit of stick about being too small," he said. "It kind of made me feel like getting in the gym and trying to bench 200 or something to try and get big.
"Currently there's two smaller guys than me playing in the All Blacks, in Aaron Smith and Aaron Cruden. Those guys have got a lot of courage and a lot of heart - that's something I learnt from Cruds.
"A bit of courage and a will to play harder and more aggressive, then anything can happen. I'm happy with my game and if I can do some little things right and be more aggressive, hopefully I can take it to the next level."
Nanai-Williams, at 1.81m and 87kg, does measure up ahead of Cruden (1.78m, 82kg) and Smith (1.71m, 83kg). But, of course, those players occupy the only positions across a backline where you won't find Nanai-Williams on any given week, positions where more protection is offered defensively.
Tonight against the Hurricanes, he'll play fullback. A fortnight ago against the Blues, in the Chiefs' best attacking performance of the season, he ran rampant at centre. And that came after a consistent stint on the wing earlier in the season.
Such versatility has made the 24-year-old indispensable to the Chiefs, who this week re-signed Nanai-Williams for next season. And his form this season, running in five tries while being the only Chiefs back to start at least 10 matches, must at least leave him in the thoughts of the All Blacks selectors.
But even after Charles Piutau was ruled out of the England series, Nanai-Williams never got the call.
"It is disappointing but I can't control those things," he said. "I've got a few things to work on ... and I maybe have to take my game to another level.
"I've just got to keep grinding away ... and hopefully, God willing, I'll get that tap on the shoulder."
- APNZ