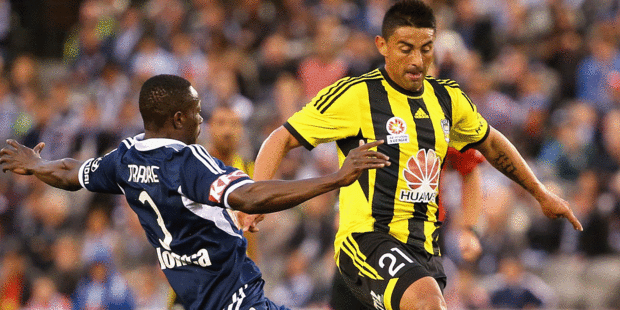 The Wellington Phoenix have parted company with Carlos Hernandez after just one season with the club.
The Phoenix last night confirmed they agreed to release they mercurial midfielder, who still had a year to run on his contract, and they wished him well for future ventures.
"Carlos' family have found it difficult to settle in Wellington,'' said Phoenix general manager David Dome said. "It is tough for a player when that is the case and the club agreed to his request for a release.''
Hernandez struggled with fitness during his time in the capital and the Phoenix, a club that pride themselves on a positive team culture, grew weary of the 32-year-old's attitude.
But his undoubted talent did shine through during his 20 games last season, scoring seven goals and notching eight assists as the Phoenix finished ninth. His form was enough to earn him a place in the provisional Costa Rica World Cup squad but, if he makes the final cut, he will head to the tournament without a club.
"We congratulate Carlos on his selection to the Costa Rican team for the World Cup and believe his performances for the Phoenix played a part in that,'' Dome said. "The club wishes Carlos all the best for Brazil and in the future.''
Wellington's future will now revolve on finding another import and, with cash available following Hernandez's release, the pressure will be on coach Ernie Merrick to show his wares in the transfer market.
Merrick inherited Hernandez after previous coach Ricki Herbert made the signing, so the Scotsman will appreciate a clean slate to work with as he seeks to guide the Phoenix from near the foot of the table.
Merrick will also have a decision to make around Paul Ifill, who missed much of last season through injury and is now off contract at the club.
The 34-year-old said he looked set to hang up his boots if he failed to earn another new deal with the Phoenix.
"I'd like to be able to join in in a bit of preseason and let Ernie have look at me then," Ifill said. "If he decides that he would like me to stay, then great, and if not, then it's probably time for me to call it a day.'
"Given my age, I think if I missed a full pre-season, trying to join in later than that, I think it's going to be very tough to get back to that level. But if I can join in six to eight weeks into the pre-season, then that's different.''
Ifill, meanwhile, said it wasn't surprising that the club had decided to part ways with the Hernandez, considering the Costa Rican never really settled at the club.
"His family weren't happy here and I think you could see at times during the season he didn't look happy," Ifill said. "So it didn't really come at a surprise to me.
"When you look at him on his game, for me he was one of the best in the league. But the flip side of that, with some of the other sides of it, is that it's obviously tough and if you're not happy in your environment playing football. Sooner or later it's not going to work.''
-APNZ/Newstalk ZB