Highlanders' custodian in the frame as Dagg seems way off pace.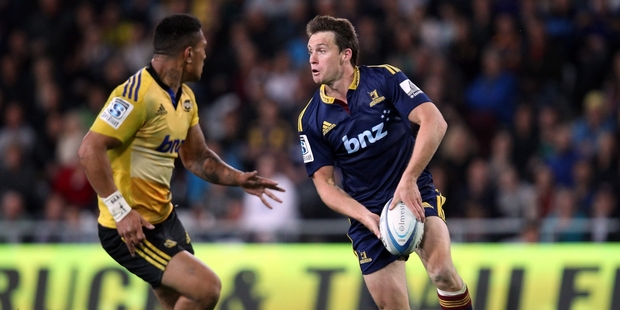 Frame the market now for the All Black fullback and Ben Smith would be out in front.
His Super 15 form, like last year, is consistently strong as he continues to suggest to the national selectors he is the best No15 in the land and would bring even more edge to the All Blacks.
Anyone who saw his latest work for the Highlanders had to be impressed by the manner in which he dominated the backfield and turned many pieces of marginal possession into a creative danger.
His curving run which set up a wondrous try for Phil Burleigh was the sort of skilful opportunism which marks him as a player of special qualities.
If Smith is the prime fullback candidate there would be a small gap to Charles Piutau then a bigger distance to the incumbent Israel Dagg, who has collected 38 caps in a fine career.
Something, however, is not sorted for Dagg at the Crusaders. It is not unusual for him to be out of tune with his coach or his teammates there before the All Black selectors go through their refinement work with their preferred fullback.
This season Dagg was dropped after one game and then used on the wing in moves which suggest there may be more unsettled times for him. Piutau has suffered the same positional switch although that has more to do with accommodating Benji Marshall than trying to run Piutau into form elsewhere. He is class and his anticipated Saturday matchup with Smith at Eden Park should be a real contest on the track and in the marketing world.
Smith's all-round impact showed with his double-digit carries against the Hurricanes, his ability to beat the first line of tacklers and also link with teammates when he found better channels. His positional play and tackling was solid with just one miss out of 10 attempts.
When a kick is needed, Smith has grafted a variety of styles into his playbook while his work in the air defusing or regaining possession rates up with Dagg at his best.
Since All Black trials went the way of glass milk bottles, the Super Rugby competitions have offered a much more valuable field of comparison.
The All Black selectors judge international contenders' skills in an array of conditions against a range of rivals and then compare them further from the raw statistical data about their work.
Graham Henry, Wayne Smith and Steve Hansen identified Dagg as the sort of fullback to add more layers to the All Black role once Mils Muliaina had finished his tour of duty.
They called Dagg into the squad in 2010, worked him into plans and were rewarded with many brilliant performances. So too Ian Foster and Grant Fox who have teamed up as selectors with Hansen in the last two seasons.
They believe in Dagg as a prime All Black asset and one they can hone if he has been unable to find his spark during the Super 15. There is still a long way for that series to run and for Dagg's talent to reignite.
Smith and Piutau are saying "pick us". They have shown their class in internationals and are repeating that in the Super 15, values which must surely count for more than bit-part roles in the All Blacks.