Therese Walsh doesn't play cricket, but she's captain of a team that has fans of the game daring to hope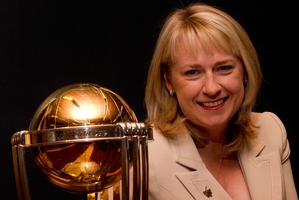 Next April, Therese Walsh will be out of a job.
Just a guess here, but she won't be twiddling her thumbs for long.
The date will mark the end of the Cricket World Cup, being jointly hosted by New Zealand and Australia for the second time after 1992.
The early signs are encouraging. Ticket prices are affordable and there's a buzz growing about the game's showpiece.
Put that down partly to New Zealand's just-completed memorable summer, when they beat the West Indies and the formidable Indians.
Cricket, after having to take its share of hefty and varied on- and off-field blows in recent seasons, is on a roll, and how timely is that?
But also it seems to have touched a chord with New Zealanders. Walsh can appreciate what this will mean to the country's sports fans.
She's been in this territory before, as a senior figure in the organisation of the Rugby World Cup, hosted so memorably by New Zealand in 2011.
So - assuming the cricket event goes off smoothly, and irrespective of whether New Zealand win it or not - who is this woman who has been front and centre in the administration of the two most significant sports events since the 1990 Commonwealth Games in Auckland?
The abbreviated version goes like this: Wellington born, one of five children, educated at St Mary's College (where she reckons she was more at the swotty than the cool end).
Walsh joined KPMG as an auditor after graduating from Victoria University with a commerce degree. She had ambitions to become a partner before, as she put it, "a whole series of stars aligned".
The New Zealand Rugby Union was her client, it had a vacancy, Walsh was sounded out and stepped in. And stayed. It was 2002.
She was chief financial officer until Chris Moller, then chief executive of the NZRU, broadened her portfolio and made her general manager of corporate services. By World Cup time in 2011 she was chief operating officer.
"He is the person who picked me out and said 'you're capable and I'm going to give you a chance' and has supported me every step of the way," Walsh said of Moller, with whom she later worked as a New Zealand Cricket board member.
"I got engrossed in what I was doing there. It wasn't like 'yay, I must work in sports', anything like that."
On her first day, New Zealand lost the sub-hosting rights to the 2003 World Cup. Pandemonium.
"The world was going mad," she remembered.
Walsh was the first woman to present accounts to the annual meeting.
"I was an auditor, and had never had any media exposure. We'd just lost the rights and the cameras were going off so often I could hardly see. I wasn't used to that, and it was quite a learning experience. But working in something so public, with the highs and lows, you just learnt to deal with it. It was a great group of people inside [the union] and you formed a bond."
When Walsh looks back, rollercoaster seems the most appropriate word for her time with the NZRU. She was there when New Zealand won the cup hosting rights in 2005, so she tasted the emotional extremes of the national game.
"It was fantastic," she said. "There were times when there were tears and times when you had jubilation you couldn't get at any other point in your life. Winning the [RWC] rights was the most extraordinary day ever."
So with the RWC ticked off, the Cricket World Cup loomed. About 35 people who worked on the rugby event are now putting the cricket pieces together for next summer.
From the RWC, they have a template in terms of people to work with on the range of boxes to be ticked.
Walsh is boss. She talks admiringly of four influential men from her time in rugby - Moller, NZRU chief executive Steve Tew, the late Jock Hobbs ("such a good guy") and RWC boss Martin Snedden - and what she picked up from them.
"Did they learn some things from me? I would absolutely like to think so, and yes I do approach things from a different perspective.
"I'm not a rugby or cricket obsessive. I certainly like and value sport. But I'm not going to sit in any meeting and talk about who bats No 3."
Walsh remembers sitting up in the middle of the night as a young girl, transistor radio on with the family, cheese on toast, and thinks of it as a sort of New Zealand DNA.
She appeals as a "doer", a roll-the-sleeves-up and get things done type, and happily admits to be a "driven" person.
"Most people who've known me a long time will tell you that. I have been since kindergarten.
"As a family we're a bit focused and my mother [Natalie] is a pretty amazing person. She was a primary school principal, did lots of charity things and achieved a lot in a short period. My father [Ted, who died when Walsh was leaving high school] never got to finish school so I think he was very keen we would all proceed further than he did."
She and husband David, KiwiRail's corporate finance manager, have two children, Tom, 17, and Rosie, 14.
Walsh has tried working part time or stepping back, but says it doesn't fit well with her personality.
"Every time I've tried it I've failed miserably. I've wanted to be involved in the sexy stuff, the big happenings and drive stuff. That's hard to do when you're part-time."
Late last year, Minister of Women's Affairs Jo Goodhew - in announcing Walsh as the supreme winner of the Woman of Influence award - described her as "the wonder woman of mega sports events".
What did she make of that? A long pause, then: "It probably does what always happens in sport, overstates the truth. I couldn't do these things without amazing staff.
"I'm here doing an interview with you while more than 50 people around the country are making things happen.
"It was really nice because it highlighted the work we're doing in Cricket World Cup, but it's unfair to focus it on me. I'm really proud to have been involved in two global events and I work hard. It's half good luck, half good management."
Women now occupy prominent places in what not long ago were male domains. Walsh was the first woman to stand and report at the NZRU's annual meeting. So what is the woman's lot like now?
"It has improved significantly since I started. There's a lot more women business people and on boards. There's lots of women on my team. But there's a long way to go."
The outcome of the CWC planning - an equal split of games between the countries, one quarter-final and one semifinal in New Zealand - is better than even the most optimistic New Zealand fan could have expected.
So how did those negotiations with the Australians over match allocations really go?
Walsh believes all parties were fair minded, while obviously wanting their slice of the pie. And yes, there were crunchy moments.
"Were there times when there were heated conversations? Absolutely. Was I a staunch advocate for New Zealand? Absolutely.
"It would not be right to say it's all down to me being a fabulous negotiator throwing dead bodies around the room.
"But I made it very clear: for us to have something meaningful in New Zealand we had to have a meaningful allocation and that meant equity. That was a critical outcome and a hard one to achieve."
Walsh praises both the International Cricket Council and her Australian counterparts.
CWC's Australian head, John Harnden, "has been very fair to New Zealand in terms of how it works", she says.
"I look back and think 'I can't believe we got there'. I still pinch myself that New Zealand got such great allocation."
So just under a year before the February 14 opening, what does Walsh see as the cup's biggest hurdle?
She wants to get to February 15 having had a full ground for the opening game in Christchurch and a successful opening event "that New Zealanders felt emotionally attached to, and Christchurch came to life and the ticket sales were humming along nicely, then I think I'd feel really pleased at that point".
So finally, how would the boss like people to remember the World Cup? Try this for imagery.
"Quite summery, busy, lots of people going to grounds, people getting involved in activities in the cities, a little bit like the RWC."
And Walsh hopes the event will give diverse communities such as the Indian, South African, Sri Lankan populations in New Zealand a platform to figuratively wave their flag.
"It's hard for some people who've come into New Zealand over the years. In 1992 we probably weren't as accepting as a population as we are now. For me, that's quite a special aspect of it."