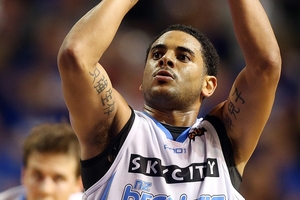 The Breakers have fined guard Corey Webster for a breach of team protocol following his bizarre criticism of match officials after Friday night's defeat to Wollongong.
Webster took to Twitter after his side's disappointing 20-point defeat to the Hawks and the post-game tweet was deemed a breach of the Breakers' team protocols and the NBL code of conduct. He was fined $500 by the club but the fine is suspended subject to Webster not making any further breaches of team protocol for the remainder of the season.
The Breakers have struggled with new rule interpretations this season and Webster is not the first to criticise officials. Bizarrely, however, it was written in Portuguese.
The translation read: "The Australians from the NBL should be ashamed that they need their referees to cheat to prevent us from winning championships.''
He deleted the message the following day but it didn't stop a censure.
"We were disappointed with Corey's actions and have acted accordingly by reprimanding him and issuing a fine,'' Breakers chief executive Richard Clarke said.
"Corey has expressed his regret at his actions and had deleted the social media comment prior to us raising it with him. It was an act of frustration rather than malice and we believe Corey will learn from this experience. It isn't our culture as a club to blame others for our own results.''
Webster also expressed his disappointment at his actions.
"I let my frustration lead me to making a bad decision,'' he said in a statement. "I apologise to our fans and the NBL. Finding excuses or blaming other people isn't going to change results. I am going to get on with doing my best to help the team and do what we need to do to get a result Thursday night.''
The three-time defending champions need a minor miracle to qualify for the playoffs with five games remaining, starting with the Townsville Crocodiles at the North Shore Events Centre on Thursday.
- APNZ