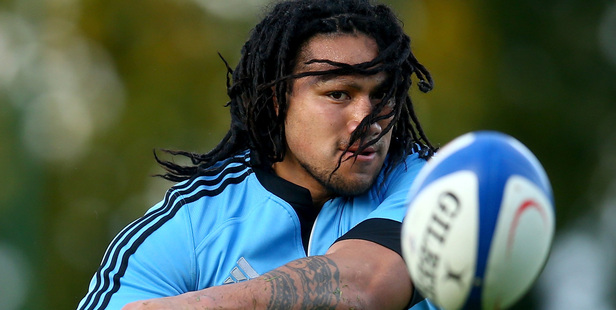 John Kirwan says Ma'a Nonu has been a joy to deal with. The player himself has added that he's "pretty motivated" following his return to the Blues.
All good stuff for Blues supporters and exactly what you would expect to hear at this time of year. What's less predictable, though, is the make-up of Kirwan's backline this season.
Today's announcement of the team to play the Hurricanes in a pre-season match in Masterton on Saturday might shed a little light on what he has planned, but it will be limited given the injuries among his backline and the slow start he has planned for his All Blacks.
An added conundrum for the coach is the fact that Francis Saili, a new All Black last year, could well establish himself at second-five before being prised out by Nonu when he returns after recovering from off-season ankle surgery. Kirwan will need all of his diplomatic skills here and in other areas. Assistant coach Graham Henry could well play a role here too because Nonu, Benji Marshall, and increasingly, Saili and Charles Piutau, will have high expectations this year.
Halfback Piri Weepu will be a late starter thanks to off-season knee surgery, there remains a question mark over first-five Chris Noakes following his recovery from a serious neck injury and then there is the managing of Marshall's transition from league and where to play Piutau, exceptional for the All Blacks last year at wing but with the ability to play centre and fullback too.
Will the All Blacks' need for new centre options as Conrad Smith's career winds down play a part in Piutau wanting a change?
Jackson Willison, a good performer in the Blues midfield last year, will want game time too before he leaves for a new career at French club Grenoble at the end of the season.
Another new All Black, Frank Halai, is a lock-in for one wing, with George Moala and Albert Nikoro possibilities for the other. The rest of Kirwan's jigsaw remains in a state of flux.
While Marshall has been impressive during his time as playmaker in pre-season, Saturday's match could be a rude awakening. Kirwan has said there is no pressure on the 28-year-old, but it is entirely possible that after giving Marshall a taste of first-five, he prefers to have the cool head of Noakes at No10 for the season proper - injury permitting - or Baden Kerr, with Marshall continuing his education at fullback.
Nonu, meanwhile, has said he is pleased to be back at the Blues after his flirtation with the Highlanders last year turned sour.
"I'm pretty motivated, I'm really excited about the challenges ahead and I'm excited to be back in this group," he said in an interview published on the Blues website. "I had a bit of a tidy up in the off-season [on ankle], I'm starting to run hopefully in the next couple of weeks at full speed and I just want to get things right and don't want it injured again."
As for his reception from Blues supporters after his stint in Dunedin and generally wretched Super rugby form over the past few years, Nonu said: "I'm not sure [whether I'll be embraced by Blues fans], I hope so. I've just got to perform on the field."
- APNZ