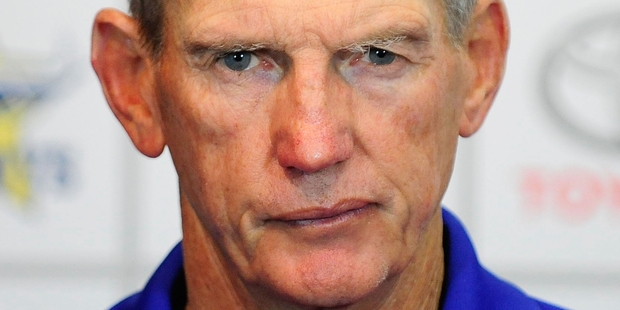 The man who masterminded New Zealand's shock victory at the last World Cup has declared the 2013 tournament "is better than 2008" - and Wayne Bennett says talk that it is a waste of time and should be scrapped "is just ridiculous".
While there is justified criticism over some of the lopsided scorelines, Bennett last night made an impassioned defence of the tournament and said "what people have to realise is that this is not just about Australia, New Zealand and England, this is about the rest of the world. And this is not about now, this is about where we want the game to be in 40 years".
Bennett was the brains behind the Kiwis' stunning upset victory over the Kangaroos in 2008 and he has no doubt in five years the developing league nations have grown significantly, directly because of their involvement in the World Cup.
"One of the reasons I took on the New Zealand job was because everyone was talking down the World Cup and in my opinion this one has been better," the seven-time premiership winning coach said.
Bennett said not only have the players loved it, so have the fans.
"We're sitting over here thinking it's not so great. Well, someone should tell the fans in the United Kingdom," Bennett said.
"Fans vote with their feet and they have voted over there that they have enjoyed the concept and the quality of football. Everyone that was complaining about the 5000 people who turned up for Australia's game against Ireland should realise that crowd was the biggest rugby league crowd ever in Ireland.
"It's easy for us sitting back here to say it's a waste of time but I'm telling you it is not a waste of time for the people of Fiji and everyone else who benefitted out of this. The United States. France. Italy. And that's what the World Cup is about, it is a bit bigger than the NRL, and we need to realise that."
- additional reporting: Sydney