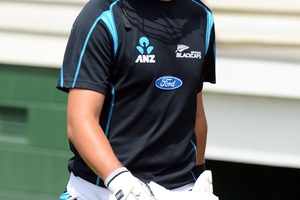 Ross Taylor will find out tomorrow whether he'll be ready for the start of the West Indies test series later this month.
New Zealand's senior batsman has been troubled by a patella tendon injury which he picked up a fortnight ago. Taylor skipped the limited-overs trip to Sri Lanka, which continued last night with the third and final ODI in Dambulla, the idea being to prepare for the West Indies with some red ball cricket.
He will see a specialist tomorrow to determine whether he is ready for Central Districts' Plunket Shield game against Northern Districts in Hamilton, starting on November 26. The first West Indies test starts in Dunedin on December 3.
"It's frustrating but it's part of cricket," Taylor said yesterday. "I'll have a better idea on Monday of where I'm at after another assessment. There may be further treatment required if there's been no improvement and we'll make a call about playing for CD after that."
No injuries come at a good time but Taylor was keen to be firing for the West Indies' arrival and reckoned he's in decent batting nick after the Bangladesh tour.
"I felt I was striking the ball well in Bangladesh, getting a couple of fifties in the tests and the ton in the third one-dayer," he said. "I felt good and was only disappointed not to go on to bigger scores in those tests."
Taylor's test average from 50 tests is 42.8. That puts him sixth among all New Zealand batsmen but of those to have played 50 or more matches, only Martin Crowe's 45.36 is superior to Taylor.
Four batsmen - Crowe (17), John Wright (12), Nathan Astle (11) and Stephen Fleming (nine) - have more test hundreds than Taylor who, at 29, should be coming into his prime.
Taylor expects the West Indies bowlers could enjoy themselves in New Zealand - "apart from the cold" - but was less sure of their batsmen, who have been done over in the current test series in India.
The pick of the West Indian bowlers has been tall offspinner Shane Shillingford. The Dominican has taken 59 wickets in 12 tests at 31 apiece, including six bags of five or more in an innings. New Zealand have had experience against Shillingford, who has been plagued by issues over his bowling action, which has a distinct snap in the arm.
He played against New Zealand for a West Indies XI in Antigua on their 2012 tour to the Caribbean, taking five for 77 in one innings (Taylor c Chanderpaul b Shillingford 19). "He's a very consistent bowler and anyone with a top spinner and a doosra is going to be a handful," Taylor added.
New Zealand's batting group will already be missing regular No3 Kane Williamson, who is getting over a fractured left thumb so can ill-afford to be without Taylor.