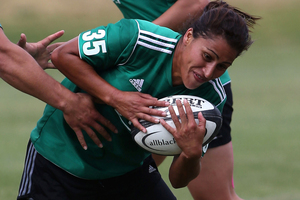 Taking a supplement used by her body builder sister has resulted in a two-year ban for former New Zealand sevens player Lavinia Gould.
Gould, a former Wellington player, received the International Rugby Board suspension after testing positive for the banned stimulant methylhexaneamine (MHA) at a tournament in Dubai in December last year.
New Zealand Rugby Union chief executive Steve Tew said he was disappointed with the news Gould had tested positive. Traces of MHA were found in a supplement not supplied by the NZRU, he said.
"Lavinia has defended herself by saying her supplement was contaminated and we have no reason to disbelieve that,'' he said. "The [IRB] jury has given her the minimum suspension which is a pretty good indication that they also believe it was a mistake rather than deliberate.
"Had she told our trainers that she was taking anything with this in it, she would have been told not to. She claims that she didn't know it was contained in anything she took, that it was a mistake.
She claims actually that it was through sharing some stuff with her sister, who is a body builder.''
The stimulant, said by the IRB, to have "effects said to be less than amphetamine and ephedrine and slightly stronger than caffeine'', is only prohibited while players are in competition.
Tew said Gould's suspension was an important lesson for players in New Zealand. The majority of professional players take supplements.
"They must take care as the consequences for their playing career can be severe,'' he said.
Tew said 1720 tests had been carried out in New Zealand over the past five years and there had been only two minor violations.
Gould played the tournament as part of the women's sevens talent identification programme. Her suspension is backdated and ends in January, 2015.
Tew said no other positive cases were pending.
- APNZ