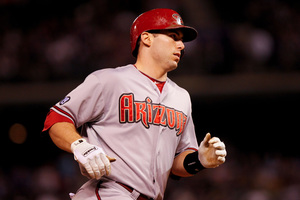 Moves are under way to bring some of Major League Baseball's biggest stars to Auckland for a game at Eden Park.
America's game is making a serious push Downunder, with the LA Dodgers and Arizona Diamondbacks to play the first Major League games in Australia in March with a series at the Sydney Cricket Ground.
Kiwi baseball officials are hoping to arrange a similar event for Auckland, although it is likely to involve an MLB All Star line-up against local players rather than an official MLB game between two clubs.
Star first baseman Paul Goldschmidt and team president and CEO Derrick Hall are part of a Diamondbacks delegation visiting Eden Park tomorrow as guests of Baseball NZ. They have been on promotional duties in Sydney ahead of the March 22 and 23 series and have stopped off in Auckland on the way home.
"We believe an All Star game is our best bet and that is Eden Park's understanding as well," Baseball New Zealand chief executive Ryan Flynn said.
"We think it would be a big deal here. It would tick all of the boxes."
The Sydney matches will take place at an SCG refurbished with a A$186 million ($213 million) upgrade and Mr Flynn feels the redeveloped Eden Park would be a suitable venue for a major baseball game.
"It's the one stadium we believe would hold at least an MLB All Star team like they sent to Taiwan two years ago."
Australia follows Mexico, Japan and Puerto Rico in hosting season-opening Major League matches.