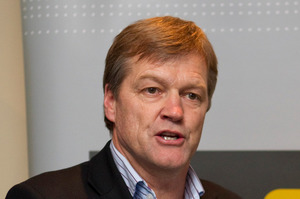 You do wonder at times about the brains trust running New Zealand football. UEFA president Michel Platini's unlikely-to-be-implemented plan to increase the number of teams in the World Cup finals in Russia in 2018 from 32 to 40 includes a provision for the winner of the Oceania group to gain automatic entry to the Cup.
The favourite for winning the Oceania group would be New Zealand - meaning the All Whites would not have the struggle they face this month having to unseat Central American powerhouses Mexico to get to the World Cup next year.
You'd think New Zealand Football would be biting off Platini's hand and licking the stump after being offered such a gift. I mean, what is the pinnacle of the sport when it comes to national teams? The World Cup, right? Entry to the World Cup must, by definition, improve a national team's ability especially over a period of time against quality opposition.
But NZF chairman Frank van Hattum gave the idea a tepid response: "Does it mean as much when you get to the World Cup and you've just been given the spot?
"At the end of the day, yes, we'd take that spot. We'd take it with open arms. My preference from OFC and New Zealand as a personal point of view is still to go through Asia in the second round of their qualification in the final group of 10."
Does it mean as much? What are we - football royalty; soccer snobs? The All Whites, courtesy of that terrific undefeated run at the 2010 World Cup, seem to have grown ideas beyond their station.
Maybe when we have been to the World Cup and won entry to the knockout rounds, we can sniff at potential opposition and dab at our noses with a perfumed hanky to block the smell.
Here are some perspectives which put Platini's idea in context:
• The All Whites are not necessarily guaranteed to win the Oceania group every year. Example: they lost 2-0 to New Caledonia last year, losing entry to the Confederations Cup where they would have met some heavyweight opposition. It also cost them an estimated $1.3 million.
• The All Whites made the 2010 World Cup finals in South Africa by beating Bahrain 1-0 in 2009. Bahrain were the fifth-ranked side in the Asian confederation that year. Hardly glittering opposition - but the game ignited the All Whites' campaign and their following in this country.
• Oceania has been a political football forever. When Australia was in the group - before they gained entry to the tougher Asian confederation - they often had to play off against a South American team. Guess what the result usually was? This was a Fifa political sop to South America, making one of their lower-placed teams play off to get entry to the World Cup finals by only having to beat lowly Oceania opposition ...
• This year, the All Whites are playing Mexico because the Central American nations had a bleat to Fifa about having to play South American teams to qualify. So Fifa changed the rules, did a random draw and the fourth-placed Concacaf team (Mexico, ranked 24th globally and World Cup regulars) are set against the Oceania top dogs.
• If Oceania has a direct qualifying spot, Australia might want to return. Wouldn't they be tough enough opposition and wouldn't such an Anzac clash bring in the crowds?

Anything other than a reception resembling pathetic gratitude seems politically inept. Van Hattum's job - and that of NZF - is to enhance New Zealand football. Quite how that happens when we not only look a gift horse in the mouth but count its teeth and then reject it is beyond me.
Platini's proposal is politically motivated. The Fifa presidency is up for grabs in 2015. The plan to extend the World Cup tournament from 32 to 40 teams (see story, p44-45) is about money; persuading more broadcasters to turn up at the negotiating table waving chequebooks with fees designed to make Fifa even more money and Messrs Platini and Fifa president Sepp Blatter look good - winning more votes from the African, Asian and European regions which benefit most from Platini's plan.
Surely van Hattum and NZF should be marshalling what political resources they have to support Platini's proposal. It may not be passed by Fifa; the practicality of housing and hosting a 40-team tournament plus supporters is a major obstacle; there is also concern from some about diluting the achievement of qualifying.
Van Hattum also makes the valid point that a 10-team Asian conference would be good for the game here long-term, giving the All Whites more testing opposition more regularly. But would they get to the World Cup more often than by winning the Oceania conference? Doubt it.
Oceania could also get tripped up by future political moves from Fifa removing the direct entry if it suited the machinations of the day. But surely NZF should be aiming at direct entry and doing what political horse-trading and chess-piece moving they can.
Maybe it is better, in an aesthetic sense, to qualify for the World Cup down a more righteous road but New Zealand football beggars cannot be choosers - and coming up with public utterances that basically say: "Oh, all right, if you insist, we'll take a World Cup spot - but we don't think it's quite right, you know ..." benefits no one and simply broadcasts the ability for New Zealand football to be a political football.
It makes NZF look like a clown running across a minefield - the comical heading for the inevitable.