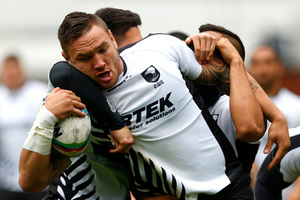 This World Cup has already thrown up a few surprises but it has done nothing to change my belief that one of the top three sides will win it.
Australia now have a free passage to the final after their win over England at the weekend. It won't do them any favours because I would much rather have a tough road to the final like what faces the Kiwis.
New Zealand will need to get past Italy or Tonga in the quarter-finals, which will be tough, and then England in the semifinals.
That's a real positive for the Kiwis because they need to be tested, need to be battled-hardened and they need to get their systems right against good opposition. There's no point breezing through the competition and then not knowing what to do when it really counts. That's why Samoa's comeback last weekend was just what the Kiwis needed. They would have learned little if they had won 42-8 as opposed to 42-24.
The players walked off the park unhappy with their performance and demanding improvement. That's good.
The Kiwis have spoken about having pride in their defence and this aspect of the game is critical if they are to defend the World Cup but it was clear it wasn't right against Samoa. They were exposed on the edges, particularly Bryson Goodwin and Shaun Johnson, and missed tackles they should have made.
They also weren't able to match the intensity of Samoa in that 20-minute period, which is often hard to do against island sides when they find momentum and belief, but at least the line-speed, discipline and control around the ruck was good.
On an individual level, Jared Waerea-Hargreaves was exceptional and he has an infectious personality and playing style. I would rate him as more important than Sonny Bill Williams at the moment in our team.
There's obviously a huge amount of room for improvement with the Kiwis but the same could be said for Australia and England.
The Aussies were poor in the first half against England but they still won, which must have been very deflating for the English. It was all set up for the home side - early lead, playing at home, Kangaroos off colour - but they couldn't take advantage and you don't get opportunities like that often.
Despite all that, I am still wary of England.
With James Graham in their side, they can do something special and I feel they are a significant threat. The big question mark is whether they can do it for 80 minutes.
One thing both Australia and England should be worried about is New Zealand's forward power and I wonder if Australia have come into this tournament a little light with only three recognised props. Two of them, James Tamou and Matt Scott, also had average seasons with their club sides.
The conditions are likely to get wetter and heavier as the tournament progresses and, with 12 interchanges allowed under international rules, it could favour a big pack.
Let's hope so, anyway.