On the first day God created the heaven and earth. On the second Sonny Bill Williams played in and won an NRL grand final. He then turned down overtures by New Zealand to play at the rugby league World Cup, changed his mind, was confirmed in the Kiwis squad at the expense of Tohu Harris, with officials from the Chiefs and NZRU and then confirmed yesterday he was sticking with the Roosters and league for 2014. Today he will join up with the Kiwis camp in Sydney, where he will have to address his teammates and convince them of his commitment to the cause. If politicians thought seven days was a long time, it's an eternity in SBW Land. Playing in and winning a rugby league World Cup almost seems mundane in comparison. The last seven days have been little short of extraordinary and his decisions have had a massive impact on a catalogue of people, as Michael Brown reports.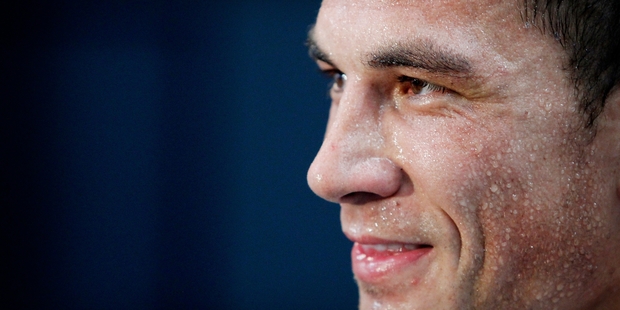 Chiefs
For the past two years, the Chiefs have ruled Super rugby. Sonny Bill Williams helped them win the first title and it was widely assumed he would rejoin them in 2014 as they chased a third-straight title.
There was an understanding in Chiefs territory that his re-capture was a formality and the rumour mill went into overdrive on Thursday when Fox Sports (what an amazing coincidence for them to have a camera nearby) captured Chiefs coaches Dave Rennie and Wayne Smith, along with the NZRU's Neil Sorensen, meeting with Williams and his manager Khoder Nasser in a Sydney cafe.
Done deal, most people thought. Not so.
The reality is nothing is guaranteed when it comes to Williams until it is official and even yesterday's announcement appeared to leave him with some wriggle room.
The Roosters put out a brief statement to announce Williams had "pledged his commitment to the Roosters" for 2014.
"The club anticipates that Williams will officially sign in mid-February 2014 for the remainder of the season on the same terms and conditions as his 2013 contract," they said in a statement.
Williams has previously said he wanted to help the All Blacks defend the 2015 World Cup and it was thought a return to rugby in 2014 was the wisest option.
Perhaps the NZRU is comfortable with Williams converting in 2015. Perhaps they don't think he's bigger than their game.
"We obviously worked pretty hard to bring Sonny home, and we have had some really good conversations with him," Sorensen said.
The Chiefs won't give up hope on Williams. "While we are disappointed that Sonny won't be with us in 2014 now, we'll be keen to keep talking to him about future options," coach Dave Rennie said.
Options is something Williams has a lot of.
Sonny Bill Williams
Williams long maintained he would make a decision on whether he would be available for the World Cup after his season with the Roosters. Few people believed him, convinced it was another way for him to drag out yet more drama and suspense and keep Brand SBW in the headlines but it soon became apparent he was genuine.
It was naive and left him little time to decide with a clear head, especially as he did in the immediate aftermath of the Roosters' NRL grand final win when a variety of emotions were swirling around.
He thought he could skip the World Cup and go on holiday with his family. He thought he was sore and his body needed a rest. But then he remembered what it felt like to miss the 2008 World Cup. He had watched the Kiwis win from France, where he was playing rugby after walking out on the Bulldogs and said he "wouldn't be able to look myself in the mirror" if he passed up a second chance to win a league World Cup.
He spoke to Nasser and then called Kearney. When Kearney phoned back, Williams explained he had made a mistake and was now desperate to play for the Kiwis at the World Cup. The coach was left with the impression Williams was genuine.
"I'm sorry for taking someone else's spot," Williams told the BBC. "I actually feel like shit, to tell you the truth.
"I'm really sorry about the Tohu situation, it was never my intention.
"I've offered my apologies to him and obviously he is hurting. It's just a really tough situation and all I can do now is play as hard as I can and help the boys retain the World Cup."
Williams appeared to move on pretty quickly and yesterday it was announced he would (probably) remain with the Roosters next year.
Stephen Kearney
Kearney had tried for weeks to convince Sonny Bill Williams to play at the World Cup. He tried to paint a vision for him and manager Khoder Nasser of what it would be like to don the black jersey again and the culture he had tried to create over the past five years. He also pointed to how Williams could help New Zealand retain the World Cup they had won in 2008.
Throughout his conversations, Kearney had a "feeling" Williams would reject his overtures and skip the World Cup. He had one final conversation with him on Monday, the day after the grand final, when he got the definitive "no".
Kearney moved on. He picked Tohu Harris. He addressed media in Auckland on Tuesday morning and talked about how he was confident the Kiwis could win the World Cup without Williams. After all, they had done it before. He flew back to Brisbane and turned on his phone. His world turned upside down.
Williams and Nasser had left messages to say Williams had changed his mind and was available if the Kiwis wanted him. There wasn't really a doubt in his mind, but Kearney knew what it would mean for Harris.
The coach phoned Williams to discuss the matter and was left with a new feeling, that Williams was genuine in his desire to play for the Kiwis. He spent most of the next few hours on the phone firstly trying to work out if a change was possible, whether he would be supported by the NZRL and how they would go about it. The selectors were canvassed for their views but the final decision was left in Kearney's hands.
He called Harris.
It was about as awkward as another call he made earlier this year to tell Benji Marshall he was losing the captaincy, describing it as "a conversation no coach would like to have".
But the bigger picture was at play.
"It's been a tough situation, but Sonny brings things to the group that we couldn't ignore," he explained.
Tohu Harris
Harris was on top of the world on Tuesday. The 21-year-old had been included in the Kiwis squad to cap off an impressive debut season, highlighted by being named Melbourne's Rookie of the Year and his debut for New Zealand in the Anzac test.
He took countless congratulatory phone calls and texts from friends and family, his parents booked flights to the UK to watch their son in the World Cup.
Less than 12 hours after the Kiwis squad was named, Kearney called Harris to tell him Williams had changed his mind and that Kearney wanted to include him at Harris' expense.
It was a devastating blow - bigger than any hit from the likes of Roosters prop Jared Waerea-Hargreaves - and sent him into a spin.
"When I spoke to him on Wednesday morning, he was extremely disappointed," Melbourne general manager of football Frank Ponissi says, "but certainly not bitter or angry. Tohu handled the situation magnificently for a young man. He had his World Cup dream taken away quickly but there was no bitterness."
Kearney offered to take Harris with the Kiwis to the UK to be in the camp and maybe even play against the Cook Islands in their warm-up game. He declined and will instead have minor surgery on an ankle.
"It was a nice gesture by the Kiwis to take Tohu and if he'd said he really wanted to go, we would have let him because it might have been a good way for him to get over the disappointment but, from speaking to him, we didn't get that from Tohu," Ponissi says. "It was an easy decision to make, given his frame of mind.
"It was a really unfortunate situation and difficult for everyone. I know Stephen Kearney well from his time in Melbourne and I thought he handled it extremely well. Tohu was aware Sonny Bill had changed his mind before it hit the media. It's really difficult to say but, if I was in Stephen Kearney's shoes, how do you not include a player like Sonny Bill Williams?"